Date added: 04 February 2012
The Lucky Ones!
But patient Town fans fume after Oxford ticket "fiasco"
The ticketing system at Swindon Town was labelled a "fiasco" after fans who patiently queued for more than five hours in the freezing cold this morning were finally told "Sorry, we're sold out".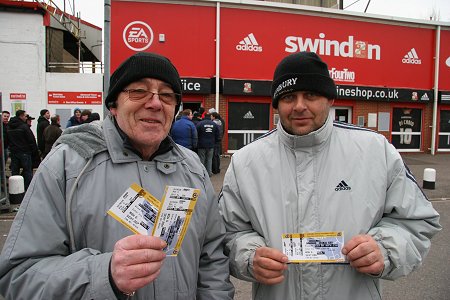 two of the last supporters to get tickets - but many missed out
after queuing for five hours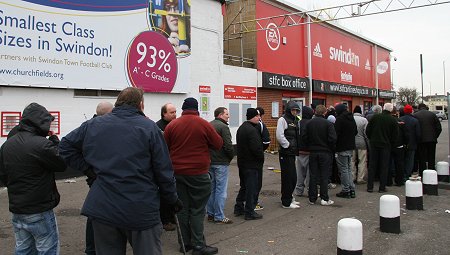 Some supporters had camped out all night to be the first in line to secure entry to the big game on 03 March - but plenty missed out after tickets were sold over the phones ahead of them.
"It's not on," commented an angry Ian Vockins, the last in the queue to buy tickets.
"The sign clearly says that only those who show their season ticket will be sold tickets. We've all made the effort and got here early and waited only to be told people phoning in have been buying them.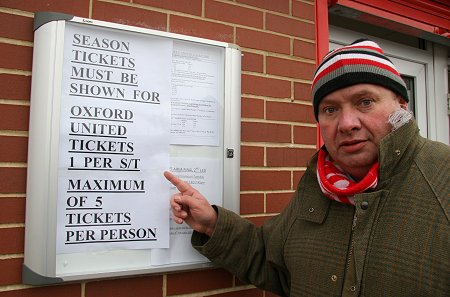 Swindon fans who followed the rules and queued
missed out to those allowed to buy over the phone without showing their season ticket
"I've been here with my son since 8 o'clock in the absolute worst of the weather and was one of the lucky ones.
"But only after complaints did the club close the phonelines at midday. But why were they open? The people patiently queuing should have been given priority. It's been a bloody fiasco."
Earlier in the day, Swindon's home game against Burton Albion was called off due to a frozen pitch.
It's hoped heaters and a specially erected dome will ensure the Barnet Johnstone's Paint semi-final goes ahead on Tuesday.
To encourage support, tickets for Tuesday have been reduced to £10 for adults, £5 for 15 and unders.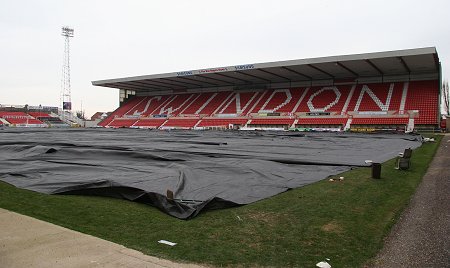 the County Ground pitch this morning
Paolo's A-Team
Di Canio makes it seven signings as squad prepare for Lake Garda - UPDATE

28 June 2012

What A Way To Win it!
Swindon are champions after 5-0 win - and boy did the fans love it! - SWTV FANS POST-MATCH & PICS...

28 April 2012

Promoted!
Town are up to League One despite 3-1 defeat at Gillingham...

21 April 2012

Nearly there!
Town one point from promotion after bitter-sweet day for Di Canio - SWTV FANS' VIEW

14 April 2012

Swindon 2 Torquay 0
Town on their way to Wembley seven points clear - WATCH SWTV FANS' VIEW

20 March 2012

Oxford 2 Swindon 0
Dark day for Di Canio as arch-rivals end Town's winning run...

03 March 2012

Ten in a row!
"Bring on Oxford!" as record-breaking run continues - SWTV FANS' VIEW...

Ice and Easy!
Connell header sends Town to Wembley on 25 March - SWTV FANS' VIEW...

Swindon Town vs Barnet
Paolo Di Canio calls for support from STFC fans to help get The Robins to Wembley - TONIGHT!...

Leicester 2 Swindon 0
Di Canio "Super Proud" despite Beckford ending Town's FA Cup adventure - WATCH GOALS...

28 January 2012

Swindon 2 Wigan 1
FA Cup day to remember as Town humble Premiership Wigan - SWTV FANS' VIEW...

Swindon 2 AFC Wimbledon 0
Paul Caddis and Simon Ferry run the show as Swindon start 2012 in impressive fashion...

02 January 2012

Torquay 1 Swindon 0
Paolo Di Canio reiterates again the need for new players in January....

26 December 2011

I'LL RESIGN!
Furious post-match rant from Di Canio after late equaliser denies derby win...

10 December 2011

Swindon 4 Huddersfield 1
Christmas comes early for Town fans after stunning win - UPDATE: Colchester away in the 2nd round...

12 November 2011

Port Vale 0 Swindon 2
Town on a roll as Magera and Kerrouche penalty seal another away win...

05 November 2011

Swindon 4 Barnet 0
Ritchie double seals biggest win of the season - WATCH SWTV FANS' VIEW...