Date added: 25 March 2012
JPT FINAL: Swindon 0 Chesterfield 2
Johnstone's Paint Trophy Final

RESULT: Swindon Town 0 Chesterfield United 2


Chesterfield scorers: Risser (OG) 47, Westcarr 90
| | |
| --- | --- |
| | FANS' VIEW |
Town fans endured a second Wembley disappointment in two years as they watched Swindon fail to make their most of their poccession and chances.
Despite dominating on the stats, the Robins were undone by an Oliver Risser own-goal and a cool Westcarr finish in injury-time.
"What's done is done," commented a deflated Di Canio, "but we will learn from this.
"The end result is that we were ineffective when we had the opportunities and this stage - here at Wembley - has maybe come too soon for us.
"I'm sorry to the fans that we haven't won this trophy and we now look to winning League Two. That I am sure we will do."
Over thirty thousand Town supporters made the trip to Wembley and hundreds watched in the pubs in Swindon, as the Reds bid to make it a promotion-Cup double.
But a well-organised Chesterfield side largely outthought Di Canio's side, who struggled to make their midfield domination pay.
The crucial moment arrived just seconds into the second-half when Chesterfield survived what looked like an obvious off-side and Mendy found space on the left to cross low into the box - only for Oliver Risser to agonisingly poke the ball past Foderingham.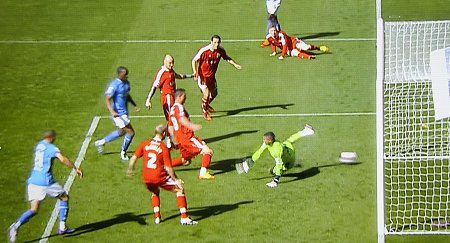 Oliver Risser diverts the ball past Foderingham
It was a goal that gave Chesterfield the confidence to keep pressing when Town had the ball and to exploit the gaps for a counter-attack.
And when Swindon finally changed to three at the back, the opportunities for a break-away opened up even further.
First Westcarr shot wide when clean-through after a mistake from McCormack before the same player killed the game when one-on-one with Foderingham in injury-time.
Town Fans Off To Wembley!
County Ground 8.15am

Town Fans Watch In Swindon Pubs
The Woodshaw Inn, The Moonrakers & The New Inn
NEXT GAME:
Bristol Rovers
(H)


Saturday 31
March 2012, 3pm
Bristol Rovers
(H)


Saturday 31
March 2012, 3pm
Makers of made-to-measure sliding wardrobe doors since 1982.
Paolo's A-Team
Di Canio makes it seven signings as squad prepare for Lake Garda - UPDATE

28 June 2012

What A Way To Win it!
Swindon are champions after 5-0 win - and boy did the fans love it! - SWTV FANS POST-MATCH & PICS...

28 April 2012

Promoted!
Town are up to League One despite 3-1 defeat at Gillingham...

21 April 2012

Nearly there!
Town one point from promotion after bitter-sweet day for Di Canio - SWTV FANS' VIEW

14 April 2012

Swindon 2 Torquay 0
Town on their way to Wembley seven points clear - WATCH SWTV FANS' VIEW

20 March 2012

Caio Bambino!
Wembley T-shirts, TV & Toddlers - all in a day's work for Paolo Di Canio...

08 March 2012

Oxford 2 Swindon 0
Dark day for Di Canio as arch-rivals end Town's winning run...

03 March 2012

Ten in a row!
"Bring on Oxford!" as record-breaking run continues - SWTV FANS' VIEW...

Ice and Easy!
Connell header sends Town to Wembley on 25 March - SWTV FANS' VIEW...

Swindon Town vs Barnet
Paolo Di Canio calls for support from STFC fans to help get The Robins to Wembley - TONIGHT!...

The Lucky Ones!
But patient Town fans who missed out fume after Oxford ticket "fiasco"...

04 February 2012

Leicester 2 Swindon 0
Di Canio "Super Proud" despite Beckford ending Town's FA Cup adventure - WATCH GOALS...

28 January 2012

Swindon 2 Wigan 1
FA Cup day to remember as Town humble Premiership Wigan - SWTV FANS' VIEW...

Swindon 2 AFC Wimbledon 0
Paul Caddis and Simon Ferry run the show as Swindon start 2012 in impressive fashion...

02 January 2012

Torquay 1 Swindon 0
Paolo Di Canio reiterates again the need for new players in January....

26 December 2011

I'LL RESIGN!
Furious post-match rant from Di Canio after late equaliser denies derby win...

10 December 2011

Swindon 4 Huddersfield 1
Christmas comes early for Town fans after stunning win - UPDATE: Colchester away in the 2nd round...

12 November 2011

Port Vale 0 Swindon 2
Town on a roll as Magera and Kerrouche penalty seal another away win...

05 November 2011

Swindon 4 Barnet 0
Ritchie double seals biggest win of the season - WATCH SWTV FANS' VIEW...