Date added: 21 April 2012
Promoted!
RESULT: Gillingham Town 2 Swindon Town 1
Gillingham scorers: Kedwell 26, Whelpdale 52, 90 (pen)
Swindon scorer: McCormack 81
An emotional Paolo Di Canio targeted the championship at home on Saturday after Swindon sealed promotion despite losing.
"We need to forget this performance today but I'm happy for the fans," the tearful manager commented as he joined the players in celebration in front of Town's travelling supporters.
"We have to win the championship now. Promotion is just not enough."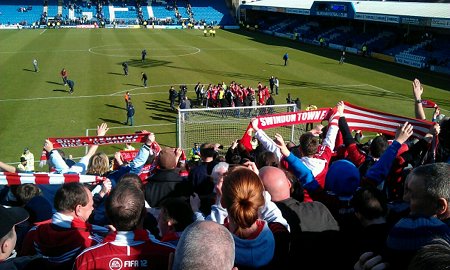 We are going up!:
Swindon fans celebrate promotion
As Swindon fans cheered and partied at the news that Town can now not be caught by the likes of Torquay and Crawley, the Swindon players were strangely subdued at the final whistle.
The 3-1 loss being a fair reflection of a game in which Gillingham dominated in the second-half to cap a week of two defeats for the Robins - and much publicised off-field problems.
Only a late goal from Alan McCormack, who was initially dropped after being disciplined by Di Canio for breaking the club's drinking rules, gave the Robins a chance of recovering from 2-0 down.
But a stoppage-time penalty sealed the points for Gillingham, who still entertain a slim chance of the play-offs.
The top of League Two.
1 Swindon 44 38 89 P
2 Shrewsbury 44 26 85
3 Crawley 44 24 81
------------------------
4 Torquay 44 14 80
5 Southend 44 25 77
6 Cheltenham 44 13 71
7 Crewe 44 8 70
------------------------
8 Oxford Utd 44 16 68

LAST TWO GAMES:
Saturday 28 April 2012, 3:00pm
Saturday 05 May 2012, 3:00pm
Saturday 28 April 2012, 3:00pm
Saturday 05 May 2012, 3:00pm
Makers of made-to-measure sliding wardrobe doors since 1982.
Paolo's A-Team
Di Canio makes it seven signings as squad prepare for Lake Garda - UPDATE

28 June 2012

What A Way To Win it!
Swindon are champions after 5-0 win - and boy did the fans love it! - SWTV FANS POST-MATCH & PICS...

28 April 2012

Nearly there!
Town one point from promotion after bitter-sweet day for Di Canio - SWTV FANS' VIEW

14 April 2012

Swindon 2 Torquay 0
Town on their way to Wembley seven points clear - WATCH SWTV FANS' VIEW

20 March 2012

Caio Bambino!
Wembley T-shirts, TV & Toddlers - all in a day's work for Paolo Di Canio...

08 March 2012

Oxford 2 Swindon 0
Dark day for Di Canio as arch-rivals end Town's winning run...

03 March 2012

Ten in a row!
"Bring on Oxford!" as record-breaking run continues - SWTV FANS' VIEW...

Ice and Easy!
Connell header sends Town to Wembley on 25 March - SWTV FANS' VIEW...

Swindon Town vs Barnet
Paolo Di Canio calls for support from STFC fans to help get The Robins to Wembley - TONIGHT!...

The Lucky Ones!
But patient Town fans who missed out fume after Oxford ticket "fiasco"...

04 February 2012

Leicester 2 Swindon 0
Di Canio "Super Proud" despite Beckford ending Town's FA Cup adventure - WATCH GOALS...

28 January 2012

Swindon 2 Wigan 1
FA Cup day to remember as Town humble Premiership Wigan - SWTV FANS' VIEW...

Swindon 2 AFC Wimbledon 0
Paul Caddis and Simon Ferry run the show as Swindon start 2012 in impressive fashion...

02 January 2012

Torquay 1 Swindon 0
Paolo Di Canio reiterates again the need for new players in January....

26 December 2011

I'LL RESIGN!
Furious post-match rant from Di Canio after late equaliser denies derby win...

10 December 2011

Swindon 4 Huddersfield 1
Christmas comes early for Town fans after stunning win - UPDATE: Colchester away in the 2nd round...

12 November 2011

Port Vale 0 Swindon 2
Town on a roll as Magera and Kerrouche penalty seal another away win...

05 November 2011

Swindon 4 Barnet 0
Ritchie double seals biggest win of the season - WATCH SWTV FANS' VIEW...