Date added: 13 July 2013
BREAKING: MANAGER WANTED!
MacDonald quits leaving Town in crisis just weeks before the start of the new season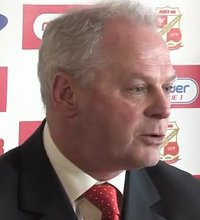 Swindon Town are once again managerless after Kevin Macdonald resigned today.
The Swindon boss, who was only appointed as successor to Paolo Di Canio in March, wasn't present at the Robins surprise friendly defeat 2-0 at Forest Green Rovers last night.
'Personal reasons' for his departure have been cited with rumours of backroom disagreements over transfers and team selection.
Assistant manager Mark Cooper has been put in temporary charge of team affairs.
Swindon face Tottenham in another pre-season friendly on Tuesday night.
"Swindon Town can confirm that, after further meetings with the Board of Directors today, Kevin MacDonald has left his position as First Team Manager by mutual consent.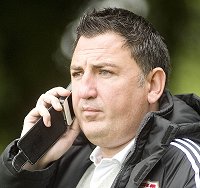 looking for a new manager
"The Club would like to thank Kevin for all his hard work during his time at Swindon Town and wish him all the best for the future.

"Kevin would also like to thank the Directors, staff, players and supporters for the backing and support they have given him over the last few months.

"The process to find a replacement for Kevin will begin immediately and Mark Cooper will be placed in temporary charge of the team until that process is complete."
"We got on like a house on fire!"

So what went wrong?
SWTV video from Kevin MacDonald's official press conference after being announced as the new Swindon manager. 17,000+ views.
Ferguson v Swindon
Played 3. Drew 1. Lost 2. But we all remember Cantona getting sent off at the County Ground! - WATCH VIDEO

08 May 2013

Bring On Brentford!
Big Bank Holiday ahead as 6th place Swindon get set for the play-offs...

27 April 2013

Swindon 3 Stevenage 0
Future looking brighter after big win secures a play-off place - SWTV FANS' VIEW

20 April 2013

Swindon 4 Crewe 1
Home win - YES! But Town fans realistic on promotion hopes - SWTV FANS' VIEW

16 April 2013

MK Dons 2 Swindon 0
Automatic promotion hopes hanging by a thread after another away defeat...

09 April 2013

Swindon 1 Oldham 1
Rooney wonder goal saves a point but MacDonald voices concerns on failure to take chances...

29 March 2013

Swindon 0 Notts County 0
Still no home win for MacDonald but Town up to 2nd - SWTV FANS' VIEW + MATCH PHOTOS

23 March 2013

Swindon 2 Walsall 2
Frustrating home form continues as late goal denies Town - SWTV FANS' VIEW

09 March 2013

Unlucky Thirteen
Bury end the Robins' 13-match unbeaten run - MATCH PHOTOS

26 February 2013

Meet The Board
New owners of STFC look to the future... and the Championship - WATCH VIDEOS

25 February 2013

Chance To Go Top.... Missed!
'New' owners look on; fans plead with Di Canio but Monkhouse (again) spoils the party - SWTV FANS' VIEW + MATCH PHOTOS

09 February 2013

Over To You, Paolo?
Will he stay? We hope so! But Town fans on a knife edge after draw at Crawley and emotional post-match scenes...

02 February 2013

Orient 0 Swindon 0
Foderingham keeps his eyes on the prize with dramatic late save...

29 January 2013

GAME ON!
Town pitch survives 8am inspection after mammoth snow clearing effort...

19 January 2013

Troubling Times At Town
But don't panic say STFC Supporters' Trust as threat of Administration is mooted...

17 January 2013

Swindon 4 Carlisle 0
Fans buzzin' after third thumping win - SWTV FANS' VIEW + MATCH PHOTOS

05 January 2013

Swindon 5 Portsmouth 0
Cometh the hour, cometh the man! Super-sub Collins inspires Town to another festive five - MATCH PHOTOS

01 January 2013

Swindon 1 Doncaster 1
SHOCK: Di Canio happy despite more dropped points - WATCH SWTV FANS' VIEW & GALLERY

08 December 2012

Swindon 4 Yeovil 1
New signings impress as emphatic Town up to 3rd - SWTV FANS' VIEW + GALLERY

17 November 2012

Walsall 0 Swindon 2
Town gone in 60s after Ferry sets them on their way back up to 6th,,,

10 November 2012

Swindon 0 Macclesfield 2
Di Canio absolutely fuming (to say the least) after shock FA Cup exit - SEE GALLERY

03 November 2012

Swindon 2 Aston Villa 3
"Oh well!..." Town fans upbeat despite last-minute agony - SWTV FANS' POST-MATCH & GALLERY

30 October 2012

Material Goal!
Beating Villa tonight would be better than sex with Madonna, says Di Canio!...

30 October 2012

Swindon 1 Scunthorpe 1
Town drop more points at home as Di Canio stays silent - SWTV FANS' VIEW + PICS

20 October 2012

Swindon 0 Colchester 1
Ex-Red Rose stuns the County Ground as Town stumble - SWTV FANS' VIEW & GALLERY

02 October 2012

Swindon 3 Burnley 1
SWEET SIXTEEN for Town as Capital Cup run continues - BRING ON THE VILLA!

25 September 2012

Fab Four & Up To 5th
South Coast double as Town thump Bournemouth - SWTV FANS' VIEW & GALLERY

22 September 2012

Swindon 0 Orient 1
Town fans critical after a week of defeats - WATCH SWTV FANS' VIEW

08 September 2012

Taxi For Foderingham?!
Di Canio blasts Town goalkeeper (to put it mildly) after 4-1 loss at Preston - APOLOGY UPDATE

02 September 2012

AET: Stoke 3 Swindon 4
"WE WERE WARRIORS!" as Collins the hat-trick hero seals epic Cup win for Town...

28 August 2012

Swindon 3 Crawley 0
Town fans more than happy but they want Caddis back - SWTV FANS' VIEW

21 August 2012

Hartlepool 0 Swindon 0
First game and Tommy Miller balloons a penalty over the bar + Town draw Oxford in JPT...

18 August 2012

Capital Punishment!
What must Paul Caddis be thinking as Swindon stun Brighton 3-0...

14 August 2012

Relaxed and Ready
Di Canio looking forward to season 'opener' tonight...

08 August 2012

Paolo's A-Team
Di Canio makes it seven signings as squad prepare for Lake Garda - UPDATE

28 June 2012