Date added: 03 December 2013
I'm A Chairman, Get Me Out Of Here!
BREAKING: Power takes over at Swindon Town Football Club as McCrory quits as chairman
Swindon Town Football Club has a new owner - its third this year.
Jed McCrory resigned as chairman this afternoon after Lee Power, the current Director of Football, assumed control through his company Swinton 20 Reds (not a spelling mistake) at an STFC board meeting.
McCrory purchased a controlling interest at the County Ground in February after former owner Andrew Black refused to continue bankrolling the club.
Town were second in League One at the time but after the departure of Paolo Di Canio and McCrory's appointment of Kevin McDonald (who later resigned), Swindon eventually went on to lose on penalties at Brentford in the play-off semi-finals.
Swiss resident Power joined the board weeks later after injecting £1.2 million pounds to end a League transfer embargo.
Town are currently 7th in League One, one point off the play-off places.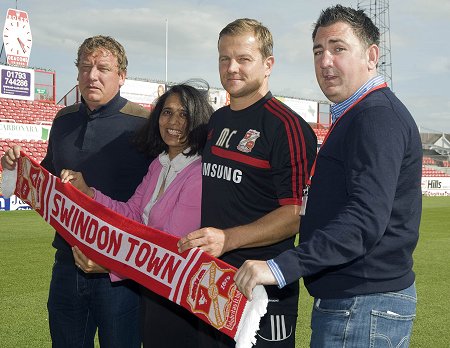 (from left) New owner Lee Power, Financial Director Sangita Singh, Manager Mark Cooper and out-going Chairman Jed McCrory
Jed McCrory Official Statement
"I would like to thank all the staff for their personal support, the sponsors for sticking with the team during the difficult times and finally, the fans for supporting me. I am extremely proud to have got to know most of you. I will miss walking around the Club before the game. I will always remember the song "He goes where he wants ", the Town End guys and the chaps in the Tap and Barrel pub; at least I opened up the Town End bar!
I look forward to being in and around Swindon and having a beer with you. This decision is made with a heavy heart but I have always believed that the Club must come before the man. #inittogether, have a Merry Christmas and Happy New Year. See you soon!"
The day he took over as chairman at Swindon Town
Lee Power Official Statement
I am delighted to officially announce that I am the new owner of Swindon Town Football Club.
Firstly, I'd like to try and alleviate some of the fans' concerns. To put the record straight, here are the facts: I paid £300,000 to buy out individuals who had shares in the Club and this gave me an option to take control of the Club, which I have now exercised. I put in £1.2 million to get the embargo lifted last season which I withdrew once the Football League had been satisfied. The financial forecasts I was given at the time were unfortunately drastically inaccurate and the Club has needed more financial input than I originally thought. For example: there was £500,000 of estimated income in the accounts for the summer concerts which, to date, has cost the football club circa £50,000. To date, I have put £740,000 into the Club this season and expect to put in another £400,000 before the end of the season.
Divulging this sort of information isn't my usual approach to business and certainly, when I played football, I always felt the best owners were the ones you didn't hear from. However, I do understand that a football club is at the heart of a community and the fans have been concerned about the future of their Club. My reasoning as to why I became involved with our Club is that I feel it has huge unrealised potential and that, with my business and football knowledge, I would be able to make the Club a viable business whilst offering success on the pitch. Hopefully the fans have seen that the early signs of what we are trying to achieve have been encouraging.
As many of you will be aware, the main necessity this season has been to reduce the playing budget to a sustainable level which has not been easy and is still not where it needs to be. We wanted to implement a new philosophy and blueprint on the pitch. This gives young, technical players (who might struggle in other sides at our level) a chance to shine at our football club and hopefully a style of play that the fans enjoy coming to watch. At this point, I'd like to compliment Mark Cooper and Luke Williams, our young management team, who have implemented what we have asked fantastically well and I hope they stay here for the long term and we will all see this project through together. Please don't take this that our aim is to be a Club that just produces young players. I want to get this club into the Premier League. It has been in the past and even recent history shows that smaller clubs than Swindon have managed this feat and I see no reason why we can't.
There has been a lot of talk about our connection with Tottenham Hotspur - there is no connection. I don't think it's any secret that Tim Sherwood is a good friend of mine and I genuinely think he is one of the most knowledgeable and forward-thinking men currently in the game. For the past few seasons I have listened to his frustrations about his young players going on loan to sides that don't play in a style that they can shine in. When I became involved with Swindon Town my thinking was that if we took a few players from Spurs at the same time, it would help us in the early stages. An added benefit is that with the loanees coming from one club, their 'bedding in' period is easier, therefore reducing the risk. I think the three players we have on loan have been excellent for us so far. Whether we will have players on loan from Spurs next year, I honestly don't know, but we will certainly utilise the loan market again.
Like I said previously, I have always felt the best owners were the quiet ones but I realise I need to be more engaging with the fans about what's going on and I will be in the future but through more traditional outlets i.e. the Club's website, the Club's programme or the local paper. I don't tweet and I don't ever go on forums. I won't be drawn into public communications with any previous Club employees, about their time here with me or their time just before I arrived. Everything I have said is factually correct and can be confirmed by Sangita Shah. I would like to thank Sangita: she would be a fantastic addition to any Board. I didn't know Sangita before my time at Swindon but she has worked tirelessly to try and help in all aspects of the Club and I am delighted that she is happy to continue in her current role.
Finally, I would like to thank the fans. You have been fantastic in support of your team home and away this season. I realise you don't earn trust overnight but please judge me after five years and not five minutes. I think you will pleasantly surprised at how we move this club forward over the coming years.
Thanks,
Lee
Swindon 1 Bradford 0
Cox makes it six wins in seven as Pritchard bows out on a high...

21 April 2014

Coventry 1 Swindon 2
Last-minute winner from Smith keeps the pressure on Peterborough...

18 April 2014

Swindon 1 Brentford 0
Louis Thompson strikes again but play-offs look unlikely - SWTV FANS' VIEW + PHOTOS

12 April 2014

Swindon 2 Sheffield Utd 1
Hope! Oh, hope! Louis's late strike keeps the play-off dream alive - WATCH SWTV FANS' VIEW

29 March 2014

Swindon 1 Preston 0
Something to cheer! Smith penalty ends nine game wait for a win - MATCH PHOTOS

22 March 2014

Swindon 1 Wolves 4
Play-off hopes finally over as gulf in class is exposed...

11 March 2014

Swindon 1 MK Dons 2
Late, late winner leaves play-off hopes hanging by a thread - SWTV FANS' VIEW + PHOTOS

08 March 2014

Orient 2 Swindon 0
More penalties send Town to their 10th league away defeat of the season...

22 February 2014

Shoot-Out Agony For Town
Fans miss out on Wembley trip after penalty woe - WATCH SWTV FANS' VIEW + MATCH PHOTOS

17 February 2014

Swindon 0 Colchester 0
Town beaten by the weather - and the ref. Ranger injury doubt for Monday + Cooper fumes at Thompson booking - PHOTOS

14 February 2014

Port Vale 2 Swindon 3
Pritchard inspires superb second-half comeback from 2-0 down - WATCH HIGHLIGHTS

08 February 2014

Swindon 0 Oldham 1
Town fans vent their frustration after a day of few positives - WATCH SWTV FANS' VIEW [CONTAINS STRONG LANGUAGE]

01 February 2014

Swindon 3 Shrewsbury 1
Smith grabs two on debut + Ranger as Town weather the storm to steal it...

25 January 2014

Gillingham 2 Swindon 0
Town fans vent their frustration as players fail to put in an away performance once again...

18 January 2014

Swindon 2 Peterborough 1
Nile Ranger puts in match-winning performance after apologising to teammates - SWTV FANS' VIEW + MATCH PHOTOS

11 January 2014

Swindon 2 Coventry 1
Christmas comes early as Kasim & Storey strike late to send Town up to 7th - MATCH PHOTOS

21 December 2013

One Step From Wembley!
JUST IN: Tyrell penalty save sends Town to JPT Southern Final - MATCH PHOTOS

10 December 2013

Swindon 3 Carlisle 1
Pritchard runs the show as Town keep in touch with the top six - WATCH SWTV FANS' VIEW

30 November 2013

Swindon 1 Orient 3
Keeper attacked & fans unhappy after poor home performance - WATCH SWTV FANS' VIEW (WARNING: contains strong language) + MATCH PHOTOS

23 November 2013

Colchester 1 Swindon 2
"What a difference a week makes!" Town call the tune to move back up in to the play-off places...

16 November 2013

JPT: Swindon 2 Wycombe 1
Town bounce back to book a place in the Southern Area Semi-Final against Stevenage...

12 November 2013

Swindon 1 Walsall 3
Lacklustre Town slip to 8th after first home league defeat of the season...

22 October 2013

Swindon 1 Tranmere 0
Cooper relieved after N'Guessan spot-kick seals the points for injury ravaged Town - WATCH SWTV FANS' VIEW

05 October 2013

Swindon 0 Chelsea 2
Torres ends Town Cup dream but fans still proud - WATCH SWTV FANS' VIEW + GALLERY

24 September 2013

Swindon 3 Bristol City 2
Late Ranger strike seals sweet derby win - bring on Mourinho! - WATCH SWTV FANS' VIEW

21 September 2013

Wolves 3 Swindon 2
No joy in the West Midlands despite superb second-half performance & Mason stunner...

14 September 2013

MK Dons 1 Swindon 1
Byrne stamp ruins Pritchard super goal as ten-man Town dig in for a point...

07 September 2013

Hello & Goodbye!
N'Guessan signs on deadline day as Birmingham-bound Caddis finally secures Swindon exit...

03 September 2013

Swindon 5 Crewe 0
Hattrick hero Mason caps a brilliant week for Town - SWTV FANS' VIEW + MATCH PHOTOS

31 August 2013

QPR 0 Swindon 2
Ranger sinks Rangers as Town record famous Capital One Cup win....

27 August 2013

Swindon 1 Torquay 0
Cooper's changes bring Cup rewards for Town - UPDATE: SWINDON DRAW QPR AWAY

06 August 2013

An Olympic Day for Swindon!
Thousands cheer as Didier Drogba leads the Olympic torch relay through Swindon - SWTV VIDEO incl. DROGBA INTERVIEW + OLYMPIC SIZE GALLERY...

23 May 2012