Date added: 03 November 2015
Over To You Lingy!
Lee Power hands Martin Ling the reigns with Swindon Town second from bottom
Swindon Town have a new manager - former Robin, Martin Ling.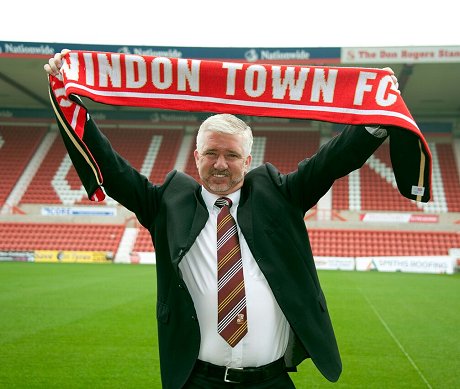 The 49-year-old was unveiled at a press conference this morning at the County Ground and commented
"this is a club where I had my best footballing times as a player, so I hope we can follow that through with my best footballing times as a manager".
In two spells at Swindon, Ling was a member of Glenn Hoddle's side that reached the Premiership in 1993.
But the new manager isn't immediately thinking of such lofty ambitions in the near future, with Swindon currently just one place off the bottom of League One.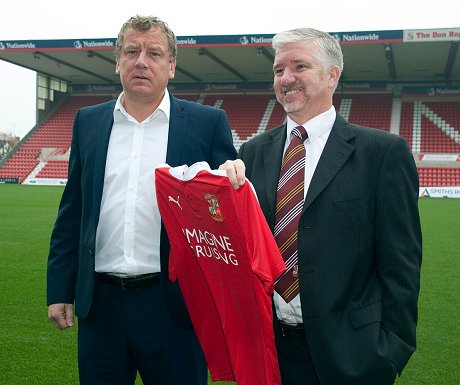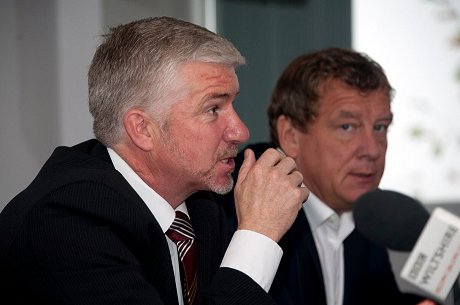 "For me it's a club that's got big potential and I'm looking forward to fulfilling that potential," he said.
"The immediate target is to move them up the league and start to get a winning team on the pitch."
Ling's first game in charge is this Saturday in the first round of the FA Cup away at Rochdale.
Rochdale 2 Swindon 2
Debut heroics from Town's young shot-stopper see 9 man Robins hang on for point - WATCH HIGHLIGHTS

30 April 2016

Walsall 1 Swindon 1
Doughty grabs important point for Town at promotion chasing Saddlers - WATCH HIGHLIGHTS

19 April 2016

Swindon 0 Bury 1
Bury secure League One survival as Town slip deeper into the mire - WATCH HIGHLIGHTS

16 April 2016

Bradford 1 Swindon 0
Bradford's promotion chase rolls on as Town go 7 games without a win - WATCH HIGHLIGHTS

09 April 2016

Western Super For Town
Williams apologies to fans after horror Easter weekend at home & away - WATCH VIDEO NASTIES

28 March 2016

Coventry 0 Swindon 0
Town stalemate leaves late play-off charge on the brink - WATCH HIGHLIGHTS

19 March 2016

Grinners Are Winners!
Four wins in a row lifts Town to 4 points from the play-offs - MATCH PHOTOS

01 March 2016

Swindon 3 Blackpool 2
Are you watching Louis Van Gaal? Former Utd trainee Nicky Ajose bags impressive hattrick against the Seasiders - WATCH HIGHLIGHTS

20 February 2016

Colchester 1 Swindon 4
That's more like it! Town back in the goals at struggling Colchester - WATCH HIGHLIGHTS

13 February 2016

Gillingham 0 Swindon 0
Stalemate at the Priestfield as Swindon go third game without a goal - WATCH HIGHLIGHTS

06 February 2016

Swindon 0 Barnsley 1
Town down to 17th after late Sam Winnall sucker punch - WATCH HIGHLIGHTS

30 January 2016

Sheffield Utd 1 Swindon 1
If anyone will - OTTEWILL! Former Arsenal prospect grabs point for resurgent Town at Bramall Lane - WATCH HIGHLIGHTS

24 January 2016

Swindon 4 Crewe 3
Comeback Kings! Town recover again from two goals down in another thriller - WATCH HIGHLIGHTS

16 January 2016

Swindon 4 Southend 2
All the magic of the cup....in League One! Sherwood looks on as magnificent Town turn around two goal deficit - WATCH HIGHLIGHTS

09 January 2016

New Year, New Manager!
BREAKING: Ling calls it a day as Town boss after just 56 days in charge - FULL POWER STATEMENT

30 December 2015

Swindon 2 Rochdale 1
Vive La Town! Robert (with two arms!) on target as climb back up continues - MATCH PHOTOS + WATCH HIGHLIGHTS

12 December 2015

Chesterfield 0 Swindon 4
Where did that come from?! Town stun the Spireites with 4-goal show - WATCH HIGHLIGHTS

28 November 2015

Swindon 2 Walsall 1
Obika and Thompson snatch an unlikely victory on a chilly night at the County Ground - MATCH PHOTOS + HIGHLIGHTS

24 November 2015

Fleetwood 5 Swindon 1
Shambles! League One strugglers Fleetwood smash five past hapless Town - WATCH HIGHLIGHTS

21 November 2015

Swindon 2 Scunthorpe 1
Gladwin inspires Town to first win in thirteen - and out of the bottom four - MATCH PHOTOS + HIGHLIGHTS

14 November 2015

Rochdale 3 Swindon 1
FA CUP: Ling era starts with disappointing Cup exit - WATCH HIGHLIGHTS + MATCH PHOTOS

07 November 2015

Wigan 1 Swindon 0
Agony for Town after last-gasp horrow show from Vigouroux - WATCH HIGHLIGHTS

31 October 2015

Swindon 2 Coventry 2
Managerless Town stop the rot with last gasp equaliser against high-flying Sky Blues - WATCH HIGHLIGHTS

24 October 2015

Swindon 1 Oldham 2
Another painful night for fans - and management - at the County Ground as poor run continues - WATCH HIGHLIGHTS

20 October 2015

BREAKING: I'm In Charge Here!
COOPER OUT. POWER IN. Swindon chairman takes over as caretaker manager after Millwall loss - FULL STATEMENT

17 October 2015

Oxford 2 Swindon 0
Another derby day of misery as depleted Town are dumped out of JPT - WATCH HIGHLIGHTS

06 October 2015

Blackpool 1 Swindon 0
From bad to worse! Town slip to 17th after Bloomfield Road horror show - WATCH HIGHLIGHTS

03 October 2015

Doncaster 2 Swindon 2
Last gasp Town snatch a point with Obika late show - WATCH HIGHLIGHTS

29 September 2015

Swindon 1 Colchester 2
Stick together! Mark Cooper urges unity as Town slip to third consecutive league defeat - WATCH HIGHLIGHTS

26 September 2015

Swindon 0 Burton Albion 1
Town slip to tenth as indifferent season continues at the County Ground - SEE PICS

19 September 2015

Crewe 1 Swindon 3
Off the mark! Swindon's new signings make immediate impression at Gresty Road - WATCH HIGHLIGHTS

05 September 2015

Swindon 2 Port Vale 2
Swindon pay the penalty! Controversial injury time spot-kick breaks Town hearts - WATCH HIGHLIGHTS

18 August 2015

Bury 2 Swindon 2
The comeback kids! Town snatch a point at a sunny Gigg Lane - WATCH HIGHLIGHTS

15 August 2015

Swindon 1 Exeter 2
What a waste! Town manager fumes as League 2 Exeter dump Robins out of Capital One Cup - SEE PICTURES

11 August 2015

Swindon 4 Bradford 1
Crucial penalty save plus Byrne on fire as Town make dream start - MATCH PHOTOS + WATCH HIGHLIGHTS

08 August 2015

Swindon 1 Liverpool 2
One week to go! Town better but Benteke stunner shows gulf in class as new season looms - WATCH HIGHLIGHTS

02 August 2015

Swindon 1 West Brom 4
Tough justice! Plucky Town put to the sword by Premier League baggies - WATCH HIGHLIGHTS

25 July 2015

Swindon 0 Aston Villa 2
Town's tricky pre-season continues with a two goal defeat to Tim Sherwood's Villa - SEE PICS

21 July 2015

Swindon 0 Everton 4
Words of encouragement from Everton boss Martinez as Town slip to 4-0 defeat - WATCH HIGHLIGHTS

11 July 2015

Supermarine 2 Swindon 1
SUPER-Marine! A jam-packed Webbswood Stadium sees the Southern League side put Town to the sword - SEE PICTURES

07 July 2015