Date added: 30 December 2015
New Year, New Manager!
Full statement on Martin Ling from Lee Power
Martin rang me yesterday morning to let me know that he was resigning as manager. I was both shocked and extremely saddened but fully respected his decision.

In a very short period of time, Martin has done an excellent job by winning five of his eight league games in charge and moving us out of and away from the League 1 relegation zone. Martin has proved that he is still a very good football manager but sometimes in life, things are far more important than football and Martin felt that the stresses of the job were not good for his health going forward.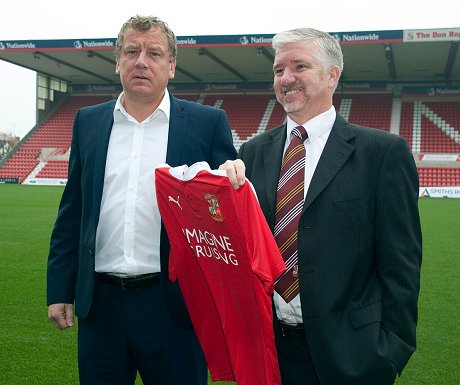 With his previous health issues, he felt that staying in the job was a risk he could not take for the sake of his family. Everyone at Swindon Town fully respects his decision and he will always be welcome back at the County Ground.

I have not spent as much time with Martin as I would have liked during his time in charge nor have I had the opportunity to nurture and develop a working relationship with him as I have been out of the country for most of his tenure. However, I would like to place on record my personal thanks to Martin. He is a football man through and through and is a very honest, hard-working man who loves Swindon Town Football Club. I saw Martin this morning and he asked me to thank his staff, the players and the supporters for their backing during his time at the club.

In the short term, Luke Williams will be in charge of the first team starting with Saturday's game at Port Vale. The search for a new permanent manager has already begun and I hope to have the new man in place as soon as possible.
Ling calls it a day as Town boss after just 56 days in charge
3.05pm 29 December 2015
It's never dull being a Town fan.
After taking charge for only nine games, new manager Martin Ling has dropped a bombshell and quit the County Ground today on health grounds.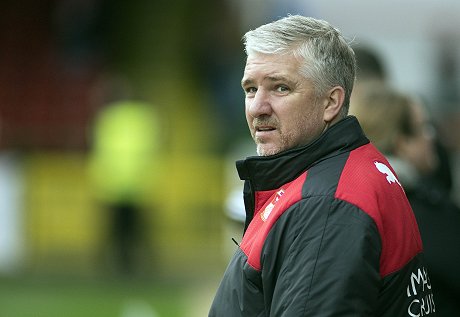 Martin Ling, here pictured on Boxing Day during Swindon's home clash against Gillingham
The surprise news came via the official Swindon Town website this afternoon, with a full statement promised - but still forthcoming.
'Swindon Town have today been informed that Martin Ling has resigned from his position as First Team Manager due to health reasons'
Ling was appointed on 03 November to take over from Mark Cooper, who was sacked in mid-October with Town struggling at the wrong end of League One after a play-off final place at Wembley as recently as May.
But a good run of four consecutive wins - despite two losses over Christmas - meant talk was of stabilisation rather than relegation, with Ling himself sounding positive just the day before he offered his resignation.
"I see Swindon Town as better than where we are in the league but not quite ready to be up there with the top boys," he said after watching Swindon lose to Burton Albion on 28 December.
"We're competitive now. Against Gillingham and today we were more than capable. We know where we are – we've steadied the ship but we need to kick on again."
Martin Ling was originally signed by Lou Macari as a player in 1986 but left the club unexpectedly after only 94 days after a clash with the manager, allegedly over the strict drinking policy at the club.
Ling then re-signed under Ossie Ardiles in 1991 and later played 168 games, scoring twice, as Swindon enjoyed a golden period under Glenn Hoddle which included promotion to the Premier League.
Ling's record as manager: P9 W5 L4
Up For The Challenge!
'Hands-on' new Town manager David Flitcroft officially unveiled, as Sherwood quietly exits stage right...

14 June 2017

Charlton 3 Swindon 0
Down with a whimper. Dire Town end season with heavy defeat at The Valley - WATCH HIGHLIGHTS

30 April 2017

Swindon 1 Scunthorpe 2
Fans' fury as tame Town are finally relegated after a shambolic season - WATCH HIGHLIGHTS + PHOTOS

22 April 2017

Walsall 1 Swindon 0
Late heartbreak leaves Town's League One future hanging in the balance - WATCH HIGHLIGHTS

17 April 2017

Swindon 1 MK Dons 1
Obika snatches injury time equaliser to keep Town survival hopes alive - WATCH HIGHLIGHTS

08 April 2017

Fleetwood 0 Swindon 1
They couldn't....could they?! Town topple 3rd placed Fleetwood as push for safety rolls on - WATCH HIGHLIGHTS

01 April 2017

Swindon 1 Millwall 0
Conor Thomas stoppage time winner stuns County Ground - WATCH HIGHLIGHTS

25 March 2017

Bradford 2 Swindon 1
Late Charlie Wyke double condemns Town to fourth consecutive defeat - WATCH HIGHLIGHTS

18 March 2017

Swindon 3 Gillingham 1
That's more like it! Back-to-back victories give Town hope - WATCH HIGHLIGHTS

28 February 2017

Bury 1 Swindon 0
Town in the drop zone as horrible run of form continues - WATCH HIGHLIGHTS

11 February 2017

Swindon 1 Oxford 2
A quick-fire double leaves Town on the brink of the dropzone - WATCH HIGHLIGHTS

05 February 2017

In The Nick Of Time!
Goal machine Nicky Ajose is on his way back to the County Ground!
#deadlineday

31 January 2017

Swindon 0 Peterborough 1
Town 3 points off the drop as unbeaten start to 2017 comes to an end - WATCH HIGHLIGHTS

21 January 2017

Bolton 1 Swindon 2
Kasim hits 89-minute knockout as Town beat promotion chasing Wanderers - WATCH HIGHLIGHTS

14 January 2017

Swindon 0 Southend 0
Vigouroux the hero as Town hang on for an important point - WATCH HIGHLIGHTS

02 January 2017

Milton Keynes 3 Swindon 2
More festive misery for Town as they slip up again at Stadium MK - WATCH HIGHLIGHTS

30 December 2016

Millwall 2 Swindon 0
No Christmas cheer for Town as Millwall triumph at The Den - WATCH HIGHLIGHTS

26 December 2016

Swindon 1 Fleetwood 1
Town share the points in promising display at the County Ground - WATCH HIGHLIGHTS

17 December 2016

Sheffield 4 Swindon 0
A second half to forget for Vigouroux as Town drop to 19th - WATCH HIGHLIGHTS

10 December 2016

Swindon 2 Luton 3
Town bow out of the Checkatrade Trophy following five goal thriller at the County Ground - WATCH HIGHLIGHTS

06 December 2016

Swindon 1 Bradford 0
Pick that one out! Anton Rodgers scores 30 yard pile driver to earn Town vital 3 points - WATCH HIGHLIGHTS

26 November 2016

Swindon 1 Eastleigh 3
Tim's Peaked? Non-league Eastleigh steamroll Sherwood's Town in FA Cup horror show...

15 November 2016

Rochdale 2 Swindon 2
Debut heroics from Town's young shot-stopper see 9 man Robins hang on for point - WATCH HIGHLIGHTS

30 April 2016

Walsall 1 Swindon 1
Doughty grabs important point for Town at promotion chasing Saddlers - WATCH HIGHLIGHTS

19 April 2016

Swindon 0 Bury 1
Bury secure League One survival as Town slip deeper into the mire - WATCH HIGHLIGHTS

16 April 2016

Bradford 1 Swindon 0
Bradford's promotion chase rolls on as Town go 7 games without a win - WATCH HIGHLIGHTS

09 April 2016

Western Super For Town
Williams apologies to fans after horror Easter weekend at home & away - WATCH VIDEO NASTIES

28 March 2016

Coventry 0 Swindon 0
Town stalemate leaves late play-off charge on the brink - WATCH HIGHLIGHTS

19 March 2016

Grinners Are Winners!
Four wins in a row lifts Town to 4 points from the play-offs - MATCH PHOTOS

01 March 2016

Swindon 3 Blackpool 2
Are you watching Louis Van Gaal? Former Utd trainee Nicky Ajose bags impressive hattrick against the Seasiders - WATCH HIGHLIGHTS

20 February 2016

Colchester 1 Swindon 4
That's more like it! Town back in the goals at struggling Colchester - WATCH HIGHLIGHTS

13 February 2016

Gillingham 0 Swindon 0
Stalemate at the Priestfield as Swindon go third game without a goal - WATCH HIGHLIGHTS

06 February 2016

Swindon 0 Barnsley 1
Town down to 17th after late Sam Winnall sucker punch - WATCH HIGHLIGHTS

30 January 2016

Sheffield Utd 1 Swindon 1
If anyone will - OTTEWILL! Former Arsenal prospect grabs point for resurgent Town at Bramall Lane - WATCH HIGHLIGHTS

24 January 2016

Swindon 4 Crewe 3
Comeback Kings! Town recover again from two goals down in another thriller - WATCH HIGHLIGHTS

16 January 2016

Swindon 4 Southend 2
All the magic of the cup....in League One! Sherwood looks on as magnificent Town turn around two goal deficit - WATCH HIGHLIGHTS

09 January 2016

Swindon 2 Rochdale 1
Vive La Town! Robert (with two arms!) on target as climb back up continues - MATCH PHOTOS + WATCH HIGHLIGHTS

12 December 2015

Chesterfield 0 Swindon 4
Where did that come from?! Town stun the Spireites with 4-goal show - WATCH HIGHLIGHTS

28 November 2015

Swindon 2 Walsall 1
Obika and Thompson snatch an unlikely victory on a chilly night at the County Ground - MATCH PHOTOS + HIGHLIGHTS

24 November 2015

Fleetwood 5 Swindon 1
Shambles! League One strugglers Fleetwood smash five past hapless Town - WATCH HIGHLIGHTS

21 November 2015

Swindon 2 Scunthorpe 1
Gladwin inspires Town to first win in thirteen - and out of the bottom four - MATCH PHOTOS + HIGHLIGHTS

14 November 2015

Rochdale 3 Swindon 1
FA CUP: Ling era starts with disappointing Cup exit - WATCH HIGHLIGHTS + MATCH PHOTOS

07 November 2015

Over To You Lingy!
Lee Power hands Martin Ling the reigns with Swindon Town second from bottom...

03 November 2015

Wigan 1 Swindon 0
Agony for Town after last-gasp horrow show from Vigouroux - WATCH HIGHLIGHTS

31 October 2015

Swindon 2 Coventry 2
Managerless Town stop the rot with last gasp equaliser against high-flying Sky Blues - WATCH HIGHLIGHTS

24 October 2015

Swindon 1 Oldham 2
Another painful night for fans - and management - at the County Ground as poor run continues - WATCH HIGHLIGHTS

20 October 2015

BREAKING: I'm In Charge Here!
COOPER OUT. POWER IN. Swindon chairman takes over as caretaker manager after Millwall loss - FULL STATEMENT

17 October 2015

Oxford 2 Swindon 0
Another derby day of misery as depleted Town are dumped out of JPT - WATCH HIGHLIGHTS

06 October 2015

Blackpool 1 Swindon 0
From bad to worse! Town slip to 17th after Bloomfield Road horror show - WATCH HIGHLIGHTS

03 October 2015

Doncaster 2 Swindon 2
Last gasp Town snatch a point with Obika late show - WATCH HIGHLIGHTS

29 September 2015

Swindon 1 Colchester 2
Stick together! Mark Cooper urges unity as Town slip to third consecutive league defeat - WATCH HIGHLIGHTS

26 September 2015

Swindon 0 Burton Albion 1
Town slip to tenth as indifferent season continues at the County Ground - SEE PICS

19 September 2015

Crewe 1 Swindon 3
Off the mark! Swindon's new signings make immediate impression at Gresty Road - WATCH HIGHLIGHTS

05 September 2015

Swindon 2 Port Vale 2
Swindon pay the penalty! Controversial injury time spot-kick breaks Town hearts - WATCH HIGHLIGHTS

18 August 2015

Bury 2 Swindon 2
The comeback kids! Town snatch a point at a sunny Gigg Lane - WATCH HIGHLIGHTS

15 August 2015

Swindon 1 Exeter 2
What a waste! Town manager fumes as League 2 Exeter dump Robins out of Capital One Cup - SEE PICTURES

11 August 2015

Swindon 4 Bradford 1
Crucial penalty save plus Byrne on fire as Town make dream start - MATCH PHOTOS + WATCH HIGHLIGHTS

08 August 2015

Swindon 1 Liverpool 2
One week to go! Town better but Benteke stunner shows gulf in class as new season looms - WATCH HIGHLIGHTS

02 August 2015

Swindon 1 West Brom 4
Tough justice! Plucky Town put to the sword by Premier League baggies - WATCH HIGHLIGHTS

25 July 2015

Swindon 0 Aston Villa 2
Town's tricky pre-season continues with a two goal defeat to Tim Sherwood's Villa - SEE PICS

21 July 2015

Swindon 0 Everton 4
Words of encouragement from Everton boss Martinez as Town slip to 4-0 defeat - WATCH HIGHLIGHTS

11 July 2015

Supermarine 2 Swindon 1
SUPER-Marine! A jam-packed Webbswood Stadium sees the Southern League side put Town to the sword - SEE PICTURES

07 July 2015