Date added: 10 November 2016
BREAKING: Tim Sherwood Announced As New Director Of Football at Swindon Town
Ex-Spurs boss to take control of all footballing matters as Red Bull rumours are scotched
Tim Sherwood was the surprise choice as director of football at Swindon Town today.

At a specially arranged press conference at the County Ground, chairman Lee Power introduced the ex-Spurs & Aston Villa boss to the waiting media before confirming that Luke Williams' present position as Head Coach will 'not change'.
Sherwood, who was recently connected to the vacant QPR job, has been a regular visitor to the County Ground in recent years through his long-term friendship with Power.

And through that, the 47-year-old admitted to having a 'soft spot' for the club and 'couldn't wait' to get started in his new role.
"It's an interesting project that I've had a close eye on for years," Sherwood told reporters.
"Luke Williams is at this football club because of me because I recommended him to Lee. I'm just coming in to help out where ever I can."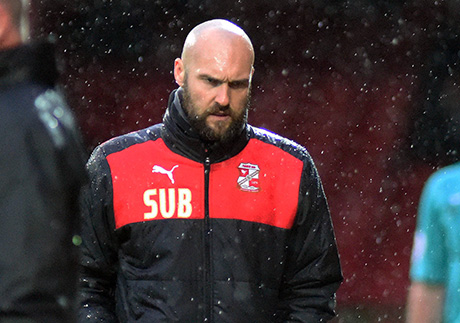 Luke Williams will remain as Head Coach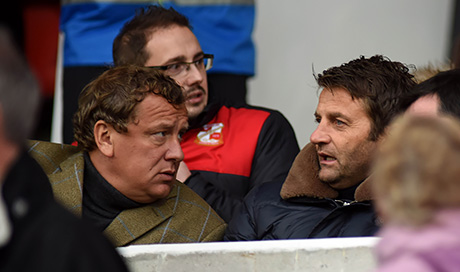 Sherwood & Power have been friends for 25 years
Power confirmed Sherwood would be working on a non-contract basis and has will 'head up' all aspects of the playing side.
"Be that the way that we play, the formation and the picking of the team," Power said before reconfirming:
"Luke Williams will still be Head Coach."
Red Bull investment rumours
Before the press conference, social media was busy with speculation linking Swindon to a take-over by energy drinks giant Red Bull, who have openly admitted looking at an 'English club' to invest in.
But the chairman jokingly confessed that although he may have encouraged those rumours by having cans of Red Bull placed on the table in front of them before the interviews started, Red Bull had not been in touch.
"The Red Bull story is a false one," he said smiling.
Up For The Challenge!
'Hands-on' new Town manager David Flitcroft officially unveiled, as Sherwood quietly exits stage right...

14 June 2017

Charlton 3 Swindon 0
Down with a whimper. Dire Town end season with heavy defeat at The Valley - WATCH HIGHLIGHTS

30 April 2017

Swindon 1 Scunthorpe 2
Fans' fury as tame Town are finally relegated after a shambolic season - WATCH HIGHLIGHTS + PHOTOS

22 April 2017

Walsall 1 Swindon 0
Late heartbreak leaves Town's League One future hanging in the balance - WATCH HIGHLIGHTS

17 April 2017

Swindon 1 MK Dons 1
Obika snatches injury time equaliser to keep Town survival hopes alive - WATCH HIGHLIGHTS

08 April 2017

Fleetwood 0 Swindon 1
They couldn't....could they?! Town topple 3rd placed Fleetwood as push for safety rolls on - WATCH HIGHLIGHTS

01 April 2017

Swindon 1 Millwall 0
Conor Thomas stoppage time winner stuns County Ground - WATCH HIGHLIGHTS

25 March 2017

Bradford 2 Swindon 1
Late Charlie Wyke double condemns Town to fourth consecutive defeat - WATCH HIGHLIGHTS

18 March 2017

Swindon 3 Gillingham 1
That's more like it! Back-to-back victories give Town hope - WATCH HIGHLIGHTS

28 February 2017

Bury 1 Swindon 0
Town in the drop zone as horrible run of form continues - WATCH HIGHLIGHTS

11 February 2017

Swindon 1 Oxford 2
A quick-fire double leaves Town on the brink of the dropzone - WATCH HIGHLIGHTS

05 February 2017

In The Nick Of Time!
Goal machine Nicky Ajose is on his way back to the County Ground!
#deadlineday

31 January 2017

Swindon 0 Peterborough 1
Town 3 points off the drop as unbeaten start to 2017 comes to an end - WATCH HIGHLIGHTS

21 January 2017

Bolton 1 Swindon 2
Kasim hits 89-minute knockout as Town beat promotion chasing Wanderers - WATCH HIGHLIGHTS

14 January 2017

Swindon 0 Southend 0
Vigouroux the hero as Town hang on for an important point - WATCH HIGHLIGHTS

02 January 2017

Milton Keynes 3 Swindon 2
More festive misery for Town as they slip up again at Stadium MK - WATCH HIGHLIGHTS

30 December 2016

Millwall 2 Swindon 0
No Christmas cheer for Town as Millwall triumph at The Den - WATCH HIGHLIGHTS

26 December 2016

Swindon 1 Fleetwood 1
Town share the points in promising display at the County Ground - WATCH HIGHLIGHTS

17 December 2016

Sheffield 4 Swindon 0
A second half to forget for Vigouroux as Town drop to 19th - WATCH HIGHLIGHTS

10 December 2016

Swindon 2 Luton 3
Town bow out of the Checkatrade Trophy following five goal thriller at the County Ground - WATCH HIGHLIGHTS

06 December 2016

Swindon 1 Bradford 0
Pick that one out! Anton Rodgers scores 30 yard pile driver to earn Town vital 3 points - WATCH HIGHLIGHTS

26 November 2016

Swindon 1 Eastleigh 3
Tim's Peaked? Non-league Eastleigh steamroll Sherwood's Town in FA Cup horror show...

15 November 2016

Eastleigh 1 Swindon 1
Town survive scare as non-league Eastleigh earn FA Cup replay - HIGHLIGHTS

04 November 2016

Scunthorpe 4 Swindon 1
Shambolic Town slip into drop zone after first-half Halloween horror show - WATCH HIGHLIGHTS

29 October 2016

Swindon 0 Walsall 2
Jekyll & Hyde Town stumble again at home - MATCH PHOTOS + WATCH HIGHLIGHTS

22 October 2016

Swindon 3 Rochdale 0
Where did that come from?! Super Swindon thrash high flying Rochdale - WATCH HIGHLIGHTS

18 October 2016

Swindon 0 Bolton 1
Town down to 20th as last gasp Bolton snatch the points - WATCH HIGHLIGHTS

11 October 2016

Swindon 0 Oxford 0
Revenge at last! Will Henry's penalty heroics sees Town past local rivals in Checkatrade Trophy - WATCH HIGHLIGHTS

04 October 2016

Swindon 1 Northampton 3
More home misery for Town as Jekyll and Hyde season continues - WATCH HIGHLIGHTS

27 September 2016

Oldham 0 Swindon 2
Town bounce back from 3 straight defeats with confident win at Boundary Park - WATCH HIGHLIGHTS

24 September 2016

Swindon 1 Bristol Rovers 2
A night to forget for Branco as two terrible minutes condemn Town to fourth defeat of the season - SEE PICTURES

20 September 2016

Oxford 2 Swindon 0
Nine-man Town slip to two goal defeat as Oxford hoodoo continues - WATCH HIGHLIGHTS

10 September 2016

Peterborough 2 Swindon 2
Town fight back from behind twice to grab important point against the Posh -WATCH HIGHLIGHTS

03 September 2016

Gillingham 1 Swindon 1
Town bounce back with hard fought point at Priestfield - WATCH HIGHLIGHTS

16 August 2016

QPR 2 Swindon 2
Penalty heartbreak as 10-man Town fall to QPR in EFL Cup...

10 August 2016

Swindon 1 Coventry 0
Kasim late show stuns the Sky Blues at the County Ground - WATCH HIGHLIGHTS

06 August 2016

Swindon 0 Swansea 3
Impressive Swans see off Town with second-half onslaught - WATCH HIGHLIGHTS

27 July 2016

Swindon 1 Reading 2
Late winner inflicts Town's first pre-season defeat on a baking hot night at the County Ground - SEE PICS

19 July 2016

New Year, New Manager!
BREAKING: Ling calls it a day as Town boss after just 56 days in charge - FULL POWER STATEMENT

30 December 2015