Date added: 22 April 2017
Swindon 1 Scunthorpe 2
League One
(but not for long)
RESULT: Swindon Town 1 Scunthorpe United 2

Swindon scorer: Ince 85
Scunthorpe scorers
:

Wallace 5; Mantom 71
Swindon Town were the laughing stock of football this weekend after not only being relegated - but initially even refusing to mention it in their official match report.

Such is the denial after yet another painful home defeat means the Robins will be visiting the likes of Accrington Stanley & Lincoln City in League Two next season - just one step away from the Vanarama. Most probably without any of the few key players Swindon will need if they are to bounce back up.
"The drop means losing about £1 million in revenue," confirmed under fire chairman Lee Power after the game, "and that means a total review of all players and staff here at the County Ground.
"It's a massive disappointment all round."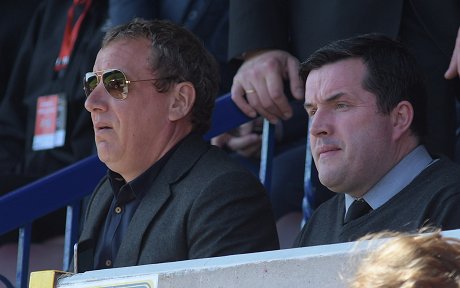 Chairman Lee Power (above) looks on as Scunthorpe supporter
Sir Ian Botham enjoys the game with his son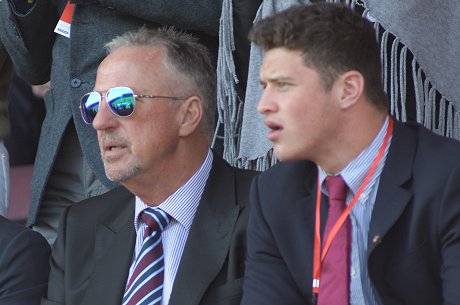 calyx
Needing three points to try and keep their faint survival hopes alive, there was certainly no spirit on the pitch akin to England's unlikely comeback in the Ashes of 1981 - even with Sir Ian Botham in the stands supporting his beloved Scunthorpe.
Just the opposite in fact, as a tame Town went behind in only the fifth minute before the visitors rubbed salt in the wounds with another with 20 minutes to go after dominating the game.
Even a late consolation from Rohan Ince - who put in one of the very few positive performances - was enough to save face or the inevitable trap door.
The boos & anger from disgruntled fans directed at the Town Board at the final whistle summing up a season everyone connected with Swindon would rather forget.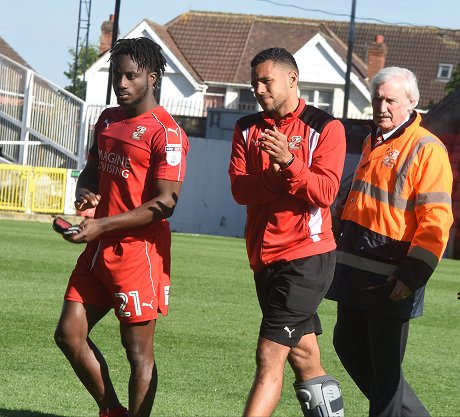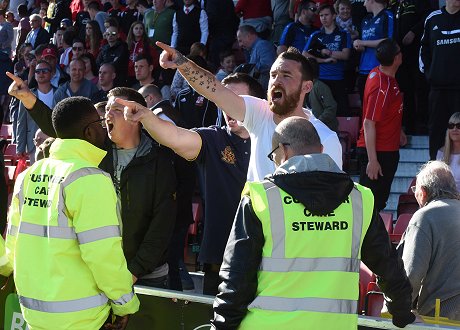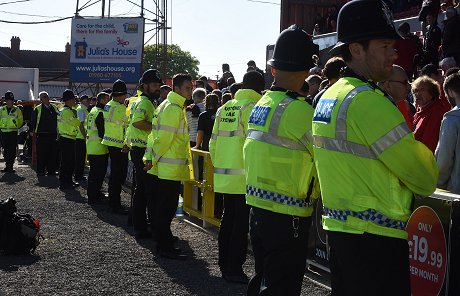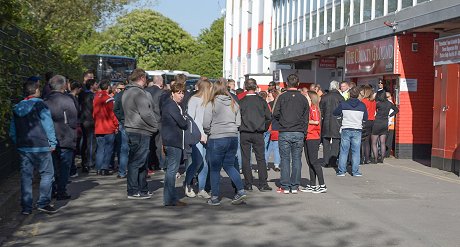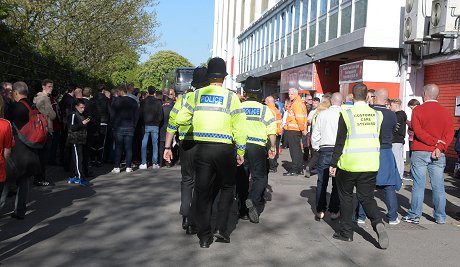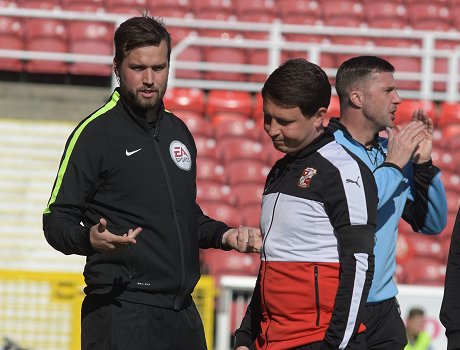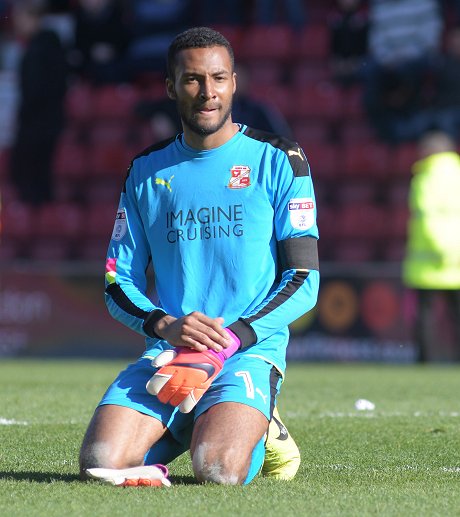 Swindon Player of the Year Lawrence Vigouroux at the final whistle, and receiving his award before the game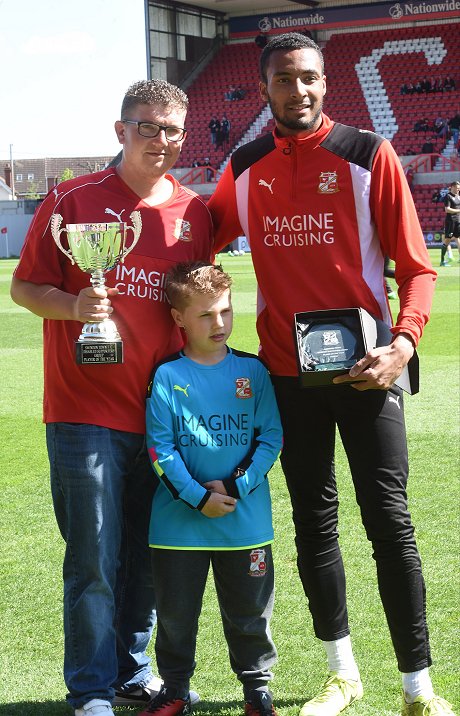 All photos courtesy of Calyx
The bottom of League One

19 Bury 45 -11 50
20 Gillingham 45-20 49
---------------------------------
21 Port Vale 44 -26 45
22 Swindon 45 -19 44
23 Coventry 45 -29 39
24 Chesterfield 45 34 37
THE FINAL FIXTURE


League One


Charlton Athletic (A)
Up For The Challenge!
'Hands-on' new Town manager David Flitcroft officially unveiled, as Sherwood quietly exits stage right...

14 June 2017

Charlton 3 Swindon 0
Down with a whimper. Dire Town end season with heavy defeat at The Valley - WATCH HIGHLIGHTS

30 April 2017

Walsall 1 Swindon 0
Late heartbreak leaves Town's League One future hanging in the balance - WATCH HIGHLIGHTS

17 April 2017

Swindon 1 MK Dons 1
Obika snatches injury time equaliser to keep Town survival hopes alive - WATCH HIGHLIGHTS

08 April 2017

Fleetwood 0 Swindon 1
They couldn't....could they?! Town topple 3rd placed Fleetwood as push for safety rolls on - WATCH HIGHLIGHTS

01 April 2017

Swindon 1 Millwall 0
Conor Thomas stoppage time winner stuns County Ground - WATCH HIGHLIGHTS

25 March 2017

Bradford 2 Swindon 1
Late Charlie Wyke double condemns Town to fourth consecutive defeat - WATCH HIGHLIGHTS

18 March 2017

Swindon 3 Gillingham 1
That's more like it! Back-to-back victories give Town hope - WATCH HIGHLIGHTS

28 February 2017

Bury 1 Swindon 0
Town in the drop zone as horrible run of form continues - WATCH HIGHLIGHTS

11 February 2017

Swindon 1 Oxford 2
A quick-fire double leaves Town on the brink of the dropzone - WATCH HIGHLIGHTS

05 February 2017

In The Nick Of Time!
Goal machine Nicky Ajose is on his way back to the County Ground!
#deadlineday

31 January 2017

Swindon 0 Peterborough 1
Town 3 points off the drop as unbeaten start to 2017 comes to an end - WATCH HIGHLIGHTS

21 January 2017

Bolton 1 Swindon 2
Kasim hits 89-minute knockout as Town beat promotion chasing Wanderers - WATCH HIGHLIGHTS

14 January 2017

Swindon 0 Southend 0
Vigouroux the hero as Town hang on for an important point - WATCH HIGHLIGHTS

02 January 2017

Milton Keynes 3 Swindon 2
More festive misery for Town as they slip up again at Stadium MK - WATCH HIGHLIGHTS

30 December 2016

Millwall 2 Swindon 0
No Christmas cheer for Town as Millwall triumph at The Den - WATCH HIGHLIGHTS

26 December 2016

Swindon 1 Fleetwood 1
Town share the points in promising display at the County Ground - WATCH HIGHLIGHTS

17 December 2016

Sheffield 4 Swindon 0
A second half to forget for Vigouroux as Town drop to 19th - WATCH HIGHLIGHTS

10 December 2016

Swindon 2 Luton 3
Town bow out of the Checkatrade Trophy following five goal thriller at the County Ground - WATCH HIGHLIGHTS

06 December 2016

Swindon 1 Bradford 0
Pick that one out! Anton Rodgers scores 30 yard pile driver to earn Town vital 3 points - WATCH HIGHLIGHTS

26 November 2016

Swindon 1 Eastleigh 3
Tim's Peaked? Non-league Eastleigh steamroll Sherwood's Town in FA Cup horror show...

15 November 2016

Eastleigh 1 Swindon 1
Town survive scare as non-league Eastleigh earn FA Cup replay - HIGHLIGHTS

04 November 2016

Scunthorpe 4 Swindon 1
Shambolic Town slip into drop zone after first-half Halloween horror show - WATCH HIGHLIGHTS

29 October 2016

Swindon 0 Walsall 2
Jekyll & Hyde Town stumble again at home - MATCH PHOTOS + WATCH HIGHLIGHTS

22 October 2016

Swindon 3 Rochdale 0
Where did that come from?! Super Swindon thrash high flying Rochdale - WATCH HIGHLIGHTS

18 October 2016

Swindon 0 Bolton 1
Town down to 20th as last gasp Bolton snatch the points - WATCH HIGHLIGHTS

11 October 2016

Swindon 0 Oxford 0
Revenge at last! Will Henry's penalty heroics sees Town past local rivals in Checkatrade Trophy - WATCH HIGHLIGHTS

04 October 2016

Swindon 1 Northampton 3
More home misery for Town as Jekyll and Hyde season continues - WATCH HIGHLIGHTS

27 September 2016

Oldham 0 Swindon 2
Town bounce back from 3 straight defeats with confident win at Boundary Park - WATCH HIGHLIGHTS

24 September 2016

Swindon 1 Bristol Rovers 2
A night to forget for Branco as two terrible minutes condemn Town to fourth defeat of the season - SEE PICTURES

20 September 2016

Oxford 2 Swindon 0
Nine-man Town slip to two goal defeat as Oxford hoodoo continues - WATCH HIGHLIGHTS

10 September 2016

Peterborough 2 Swindon 2
Town fight back from behind twice to grab important point against the Posh -WATCH HIGHLIGHTS

03 September 2016

Gillingham 1 Swindon 1
Town bounce back with hard fought point at Priestfield - WATCH HIGHLIGHTS

16 August 2016

QPR 2 Swindon 2
Penalty heartbreak as 10-man Town fall to QPR in EFL Cup...

10 August 2016

Swindon 1 Coventry 0
Kasim late show stuns the Sky Blues at the County Ground - WATCH HIGHLIGHTS

06 August 2016

Swindon 0 Swansea 3
Impressive Swans see off Town with second-half onslaught - WATCH HIGHLIGHTS

27 July 2016

Swindon 1 Reading 2
Late winner inflicts Town's first pre-season defeat on a baking hot night at the County Ground - SEE PICS

19 July 2016

New Year, New Manager!
BREAKING: Ling calls it a day as Town boss after just 56 days in charge - FULL POWER STATEMENT

30 December 2015