Date added: 21 June 2017
Welcome to League Two!
Town face a 540 mile round trip to Carlisle on first day of the new season - FIXTURES
The harsh reality of relegation to League Two hit Town fans full in the face - and the wallet for the travelling faithful - with the announcement of the EFL fixtures today.
First up is a 540 mile, 9 hour round-trip to Carlisle for the first game of the season on Saturday 05 August. Followed by a 420 mile, 7.5 hr drive to Morecambe on Saturday the 19th!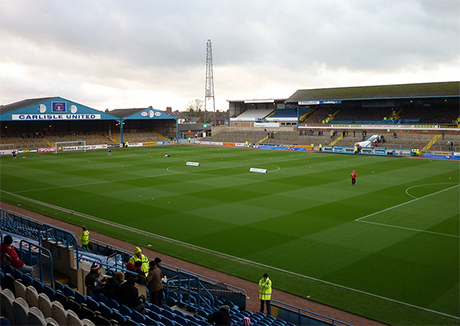 Brunton Park: first game of the season
Squeeze in a League Cup trip to Norwich in between on the 8th and it's a tough start on the road for the Robins under new manager David Flitcroft.
Town's first fixture at home is one to look forward to, though, with the visit of west country rivals Exeter on 12 August.
With no Oxford United or Bristol Rovers to look forward to this year, the 'derby' games against Forest Green Rovers on Saturday 23 September (Away) and Saturday 13 January 2018 (Home) are ones to look forward to, as is the trip down the A419 to Cheltenham on Saturday 07 October and the return at the County Ground on Saturday 10 March.
Swindon will finish the season at home to Accrington Stanley on Saturday 05 May 2018, if they don't make the play-offs.
Up For The Challenge!
'Hands-on' new Town manager David Flitcroft officially unveiled, as Sherwood quietly exits stage right...

14 June 2017