Date added: 23 February 2018
We Won This Once!
Swindon Town legends Don Rogers & Chris Kamara enjoy a moment & memories with the Carabao Cup
The League Cup was back at the County Ground today - nearly 50 years since Swindon won it back it 1969.
The Robins are one of only 23 teams to lift the trophy - now sponsored by Carabao - and it paid a promotional visit ahead of the 2018 Final on Sunday between Man City & Arsenal.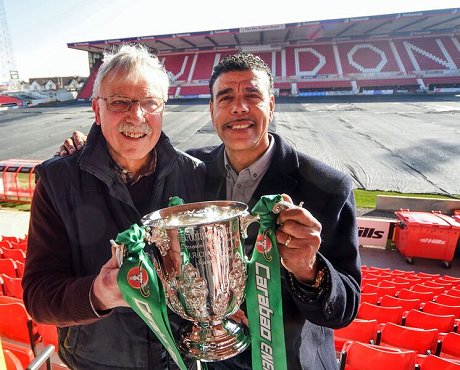 Don Rogers & Chris Kamara with the League Cup
calyx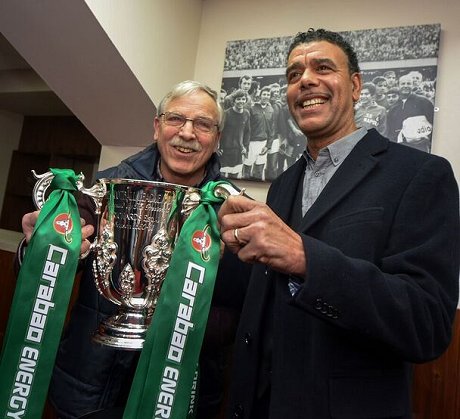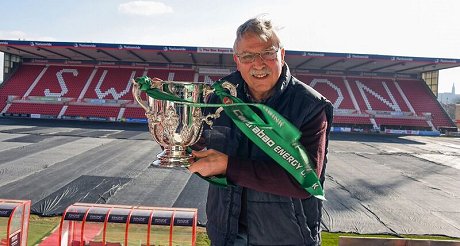 "They [Arsenal] will definitely be hoping for a better result than they had against us," Don Rogers, who scored twice in the '69 Final when Swindon shocked the Gunners 3-1, joked as he posed for pictures.
Rogers was joined by fellow Town legend Chris Kamara, who played for Town when they reached the League Cup semi-finals in 1979 in the year they also beat Arsenal in the quarter-finals 4-3.
"We didn't quite repeat the feat 10 years on but that night at the County Ground was incredible. A great game," Kammy said, "with Andy Rowland toe poking it in at the death!"
See our dedicated pages incl. videos below on both games.
Don Rogers
We interview the Swindon Town legend - WATCH VIDEO

Swindon's sporting heyday?
With news of Supermarine expanding & houses on the former BR Ground, we look back at the golden age of Swindon's big work-related sports clubs...

Kamara on form
Sky star and former Town legend speaks to SWTV at De Vere Village...

Bob Wilson in Swindon
We interview the former Arsenal goalkeeper who played in the '69 League Cup Final...

Swindon 4 Arsenal 3
Giantkillers again. We chronicle Swindon's greatest night at the County Ground - incl. SWTV INTERVIEW WITH ANDY ROWLAND + WATCH TOWN GOALS...

A Day to Remember
50 YEARS AGO!Memories of Swindon Town's greatest day - the 1969 League Cup Final - 15 MARCH 1969 - WATCH VIDEOS