DANNY WILLIAMS - Nothing But Happy Memories!
He made us all laugh, that's why we won, says Wembley hero Don Rogers
"I can't help but smile whenever I think of him,"
Swindon legend Don Rogers told us this morning, after the sad news that former Town manager Danny Williams, who led the Robins to League Cup glory in 1969, has died aged 94.
"I've just been speaking to John [Trollope] about it, and we both agreed what a fantastic manager he was.
"He just encouraged us all the time and kept the instructions as simple as possible. He left it to Stan [Harland - pic below] to be his voice on the pitch.
"My overall memory of him will always be how much he made us laugh. Training was never a chore. He gave us confidence, which is why we did so well at the time - our Wembley win & promotion to the Second Division."
In the 50th anniversary season since that great day on 15th March 1969, it was hoped Williams could join the other remaining players at the dinner celebration planned for later this year, but his passing means the picture below is the last time they were all together with the trophy to mark the 40th anniversary in 2009.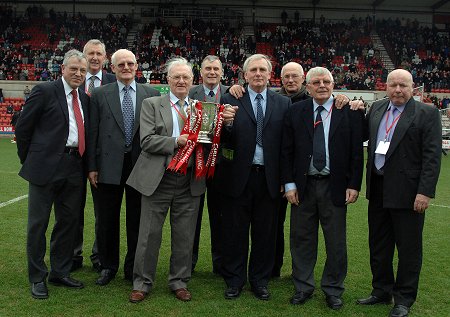 eight members of the Swindon Town team, plus manager Danny Williams (holding the trophy), that won the League Cup in 1969,
(l to r) Don Rogers, Rod Thomas, John Trollope,
Danny Williams, Roger Smart, Peter Downsborough,
Don Heath, Joe Butler, Willie Penman
"Danny was at the club for two spells as manager, then as general manager for a long time," added Rogers. "He was part of the club and loved Swindon, and you just don't get that anymore in football so much."
"I'll miss his laugh and his smile. Especially when he was lifting the trophy at the final whistle.
"No one really gave us a chance, but Danny knew we could do it."
20 November 1924 – 3 February 2019
Swindon Town Manager
1965-69 & 1974-78
Swindon Town General Manager
1978-1985
We Won This Once!
Swindon Town legends Don Rogers & Chris Kamara enjoy a moment & memories with the Carabao Cup - SEE PICS

23 February 2018

Don Rogers
We interview the Swindon Town legend - WATCH VIDEO

Swindon's sporting heyday?
With news of Supermarine expanding & houses on the former BR Ground, we look back at the golden age of Swindon's big work-related sports clubs...

Bob Wilson in Swindon
We interview the former Arsenal goalkeeper who played in the '69 League Cup Final...

Swindon 4 Arsenal 3
Giantkillers again. We chronicle Swindon's greatest night at the County Ground - incl. SWTV INTERVIEW WITH ANDY ROWLAND + WATCH TOWN GOALS...

A Day to Remember
50 YEARS AGO!Memories of Swindon Town's greatest day - the 1969 League Cup Final - 15 MARCH 1969 - WATCH VIDEOS