Date added: 14 November 2008
Maurice is out!
Malpas and Swindon Town FC part company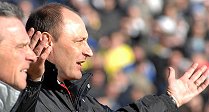 Swindon Town have drawn a line under the management of Maurice Malpas.

Chairman Andrew Fitton announced at a County Ground press conference today that the club and Malpas had decided to end his 10 month tenure by mutual agreement.

A decision Fitton described as one he made with 'deep regret'.
"It was the Histon result in the FA Cup that really got me thinking," commented Fitton, "but it was still a very, very tough decision."

And now, with Malpas on the way out, the club are keen to focus on the job of recruiting the right man to take charge. The club's 9th manager in the last 8 seasons.

The chairman, speaking to SwindonWebTV, keen to emphasise that no decision on the identity of the new manager has been taken despite speculation linking the club with Ian Dowie and Ian Holloway.

At training this morning it was decided Dave Byrne would take temporary control ahead of tomorrow's big game at home to table-topping Leicester.

And with final preparations now in place for the game, it remains to be seen whether a change in manager will mean a change in fortune.

But only time - and results - will tell.
Town managers over the years
(note Sam Allen lasted 31 years!)
Maurice Malpas Jan 2008 - Nov 2008
Paul Sturrock Nov 2006 - Nov 2007
Dennis Wise May 2006 - October 2006
Iffy Onoura (caretaker) Sept 2005 - May 2006
Andy King Dec 2001 - Sept 2005
Roy Evans Aug 2001 - Dec 2001
Andy King Oct 2000 - Aug 2001
Colin Todd May 2000 - Oct 2000
Jimmy Quinn Nov 1998 - May 2000
Steve McMahon Nov 1994 - Sept 1998
John Gorman June 1993 - Nov 1994
Glenn Hoddle April 1991 - June 1993
Ossie Ardiles July 1989 - Mar 1991
Lou Macari July 1984 - July 1989
Ken Beamish March 1983 - July 1984
John Trollope Nov 1980 - Mar 1983
Bobby Smith May 1978 - Nov 1980
Danny Williams Mar 1974 - May 1978
Les Allen Nov 1972 - Mar 1974
Dave Mackay May 1971 - Nov 1972
Fred Ford Oct 1969 - May 1971
Danny Williams Aug 1965 - July 1969
Bert Head Oct 1956 - Aug 1965
Maurice Lindley May 1953 - May 1955
Louis Page July 1945 - May 1953
Neil Harris May 1939 - July 1941
Ted Vizard April 1933 - May 1939
Sam Allen July 1902 - April 1933