Date added: 24 November 2008
Coxy stays focused
I'm a Peterborough defender get me out of Swindon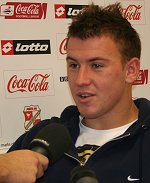 Simon Cox says the talk will be all about Peterborough defender Tommy Williams tomorrow night – whose buxom girlfriend Nicola McLean is currently starring in 'I'm a celebrity'.
"I'll be giving the banter out tomorrow night," Cox told us today ahead of the League One clash at the County Ground.
"I've been watching it with intent," he laughed, "and I will definitely be giving him some stick!"
Whether that is from the bench or on the pitch, Cox wasn't sure after his suspension ruled him out of Saturday's 2-2 draw at Bristol Rovers in which Barry Corr scored for the second consecutive game.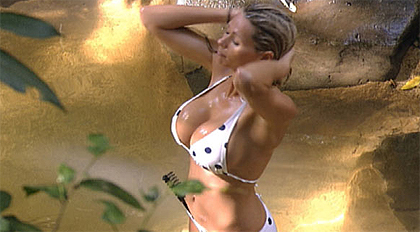 Nicola McLean, who is currently starring in
'I'm a celebrity get me out of here'
"The boys played so well on Saturday, I'm expecting to be on the bench tomorrow, but who knows?"
"If I was the manager I would probably want to stick with the way it is."
One thing Town's leading scorer is sure of, though – he wouldn't let his missus take a starring role in the jungle.
"No way!" he added, when we asked him, "not a chance in hell!"