Date added: 11 October 2008
Swindon 1 Huddersfield 3
Pressure increases on Malpas as Town succcumb at home again
Coca-Cola League One
RESULT: Swindon 1 Huddersfield 3
Town scorer: Cox (missed pen 25), Easton 88
Huddersfield scorers: Dickinson 6, Roberts 26, Flynn 69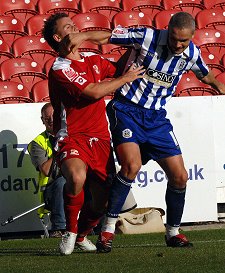 Simon Cox comes off worst
This game changed in ten first-half seconds.
Simon Cox missed a penalty to level matters - then Huddersfield made it two-nil straight from the re-start.
A moment that defined the game: Town wasting the best chances and the visitors making the most of theirs.
Dickinson having got Huddersfield off to the best possible start when slotting home from a corner, before Roberts punished a defensive error from Amankwaah to volley home from just outside the box.
Flynn making sure of the points after a Town reshuffle at half-time failed to improve things.
The boos at the final whistle signalling the discontent of home fans, who have now seen Swindon lose five games in a row at the County Ground. Many of them voicing their frustration to SwindonWebTV outside the ground.
Craig Easton's 88th minute consolation forgotten as supporters continued to call for a change in management - and a shake up on the pitch.
"We just didn't look up for it again," said one fan, "no obvious leadership and looking very fragile at the back."
"What ever's going on, it ain't working. I do honestly think we now need a change all round."
"What started as a season with high hopes is rapidly becoming a nightmare."
The big question of the day?
Just why was Derby manager Paul Jewell watching the game today from the Arkell's stand? Simon Cox, perhaps?
And is ex-Bristol Rovers manager Ian Holloway being lined up as the next Town manager? He was rumoured to be at the game.
The League One table:
1 Scunthorpe 10 12 22
2 Leicester 9 12 22
------------------------
3 Leeds 10 7 20
4 Millwall 10 4 20
5 MK Dons 10 9 18
6 Oldham 9 8 18
------------------------
7 Peterborough 10 5 17
8 Walsall 10 4 17
9 Southend 10 1 17
10 Stockport 10 3 15
11 Bristol Rovers 11 2 13
12 Carlisle 10 0 13
13 Northampton 10 0 13
14 Tranmere 10 -2 13
15 Huddersfield 10 -1 12
16 Hartlepool 10 0 11
17 Brighton 10 -3 11
18 Cheltenham11-1211
19 Swindon 10 -6 9
20 Leyton Orient 10 -9 9
-------------------------
21 Colchester 10 -7 8
22 Yeovil 9 -8 7
23 Crewe 10 -11 7
24 Hereford 9 -8 5
NEXT GAME:
Saturday 18 October 2008 3:00pm
Coca-Cola League One

STFC v Huddersfield - 11/10/2008