Date added: 13 September 2008
Swindon 1 Leeds 3
Defensive mistakes cost Town dear when it matters most
Coca-Cola League One
RESULT: Swindon Town 1 Leeds United 3
Town scorer: Cox 44
Leeds scorers: Beckford 21, 83; Kilkenny 48; Sheehan sent-off 7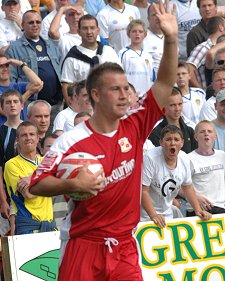 Simon Cox nets Town's only goal
Town fans were left distraught tonight following a calamitous display from Swindon against high-flying Leeds.
A defensive howeller from Jerel Ifil on 21 minutes allowing free-scoring Jermaine Beckford to sneak in unmarked to smash the ball past a helpless Phil Smith.
That after after Leeds had been controversially reduced to ten men after on seven minutes when Alan Sheehan went through the back of Jon-Paul McGovern.
A decision than set the tone of the game, which saw a number of bookings.
Briefly taking advantage, Town got themselves back in the game a minute before the break when Simon Cox neatly volleyed home a whipped-in cross from Anthony McNamee on the left.
But just when Town fans thought their side had gained the initiative, Leeds snatched it back with a second gifted goal.
This time Robins' keeper Phil Smith was the villian as he fumbled a weak free-kick to allow Leeds to take the lead just three minutes into the second-half.
A game that was killed off by Jermaine Beckford's second strike of the afternoon on 83 minutes.
Town offering very little threat in between.
A performance that rendered Town manager Maurice Malpas almost speechless and Swindon fans highly frustrated.
"I'm actually stuck for words," he told us.
"I'm not just upset with the way we lost the goals but also the lack of reaction afterwards."
Town drop to 15th.
League One table:
1 Oldham 6 10 16
2 Carlisle 6 6 13
----------------------
3 Scunthorpe 6 6 12
4 Leeds 6 4 11
5 Millwall 6 3 11
6 Leicester 5 7 10
----------------------
7 Walsall 6 3 10
8 Hartlepool 6 2 9
9 MK Dons 6 1 9
10 Tranmere 6 0 9
11 Brighton 6 0 9
12 Stockport 5 1 8
13 Leyton Orient 6 -3 8
14 Peterborough 6 1 7
15 Swindon 6 -3 7
16 Southend 6 -4 7
17 Crewe 6 -5 6
18 Yeovil 6 -5 6
19 Bristol Rovers 6 1 5
20 Colchester 5 -2 5
--------------------
21 Northampton 5 -2 5
22 Huddersfield 6 -3 5
23 Hereford 6 -6 4
24 Cheltenham 6 -12 3
20 September 2008 3:00pm
Coca-Cola League One

Swindon Town FC v Leeds - 13/09/2008