Date added: 02 July 2008
Arkell's sign STFC deal
Brewery commits to three-year sponsorship
Swindon's longest-running company Arkell's brewery have committed to Swindon Town FC sponsorship for another three years.
The deal will include naming rights to the Arkell's stand which they have held since 1997, sponsorship of the match-day programme, fixture card, match day lucky season ticket number draw, and the Arkell's player of the month.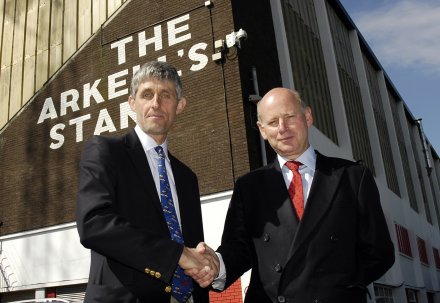 Just in the Nick of time:
Arkell's Sales Director Nick Arkell (l) and Swindon Town
Chief Executive Nick Watkins agree three-year deal
The agreement is expected to see a much stronger commercial relationship between the two Swindon brands.
"With the club under new ownership, this is the ideal time to bring two of Swindon's best-loved brands together for the benefit of club supporters and those living in and around Swindon," said Arkell's Sales Director, Nick Arkell.
"We want to get people back in the pubs, and most people in Swindon support Swindon Town, so it's ideal for us," he added.
STFC's Chief Executive, Nick Watkins, said: "Both Arkell's and Swindon Town FC are an integral part of the community's history and in this, our 40th League Cup anniversary year, it's very appropriate that we will see a cementing of this relationship."
Plans are also in place to launch a Swindon Town FC Wine Club.