Date added: 29 July 2008
Behind the scenes at STFC
Town fans given exclusive access to their favourite players!
Lucky Swindon Town fans were given exclusive access to the County Ground this morning, with a chance to meet the first team squad.
Fans watched the first team in training, collected player autographs, and some took a behind-the-scenes tour of the ground.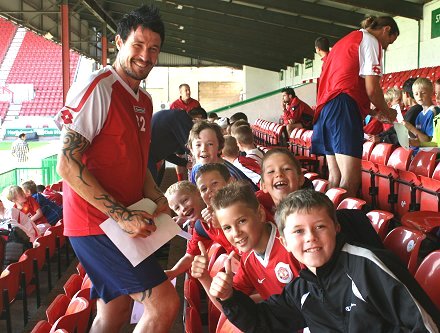 Fans favourite:


Lee Peacock chats to some of his biggest fans
Mums, dads - and of course the kids - couldn't believe their luck.
With the Football in the Community summer course also starting this morning, more than 200 young children watched on excitedly and cheered as the team practised on the pitch.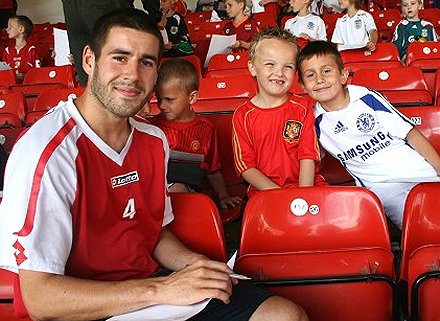 Michael Timlin meets kids from the STFC
Football in the Community initiative
And with Town facing Cardiff City in a pre-season friendly at home tonight, it was the perfect chance for our boys to see just how much support they've got in Swindon.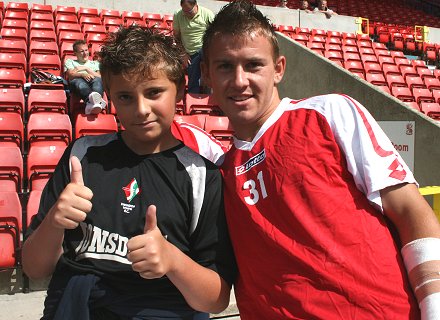 Simon Cox gets a fan's approval
It's your last chance to bag yourself a bargain season ticket this week - from as little as £229!
The 'Race to 6K' is officially coming to an end - but the club still need to sell more than 1,000 tickets before the bargain price can be set for the season.
So get yourself down to the County Ground for yours now!
Simply visit the Box Office, call 0871 223 2300, or click on to their website via the link below.

STFC Open-Day - 29/07/2008