Date added: 13 June 2008
Battle of the moneybags!
Town taking on QPR in the Carling Cup first round
With Swindon Town's new owners reported to be worth in excess of £500 million pounds and the new proprietors of Queens Park Rangers considerably more than that - it's going to be the battle of the moneybags at the start of next season for STFC.
The draw today for the Carling Cup, pitting the Robins' at home to QPR in the first round of the competition Town won all of forty years ago.
A battle in the boardroom as well as the pitch when you compare the wealth of each club - both ironically penniless this time last year.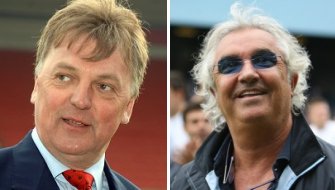 STFC, financed by Andrew Fitton and QPR,
bankrolled by Flavio Briatore
Town having been taken over by financier Andrew Fitton and his consortium containing multi-millionaires Jeremy Wray and Sir Martyn Arbib back in January - and QPR now under the control of the world's richest man Lakshmi Mattel, Formula One boss Bernie Ecclestone and flamboyant F1 team owner Flavio Briatore.
The west London Championship club, however, clear favourites for the fixture having splashed out nearly £5 million pounds over recent months with a string of high-profile signings.
Town in contrast having spent a tenth of that with aquisitions of Simon Cox and Kevin Amankwaah.
But with the silly season of transfer speculation just about to start, Swindon may yet trump their larger rivals with a number of big-money signings of their own.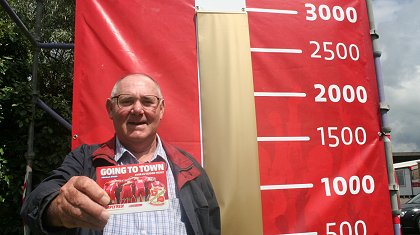 Swindon Town suppoter Ken Downton who bought
the three thousandth season ticket sold earlier this week
The three thousand or so Town fans who have already snapped up cut price season tickets ahead of the game will certainly be hoping so.
Swindon Town vs QPR is scheduled for the week begining 11 August 2008.
Swindon Town 2 QPR 3
Town bow out of the Carling Cup + Macari chooses the County Ground to launch new book...

STFC v QPR
Swindon Town take on Queens Park Rangers in the first round of the Carling Cup.

11 August 2008