Date added: 17 June 2008
The search continues
Maurice Malpas has his eyes set on a Championship full-back
Town boss Maurice Malpas revealed he is set to launch a bid for an unnamed Championship full-back as preparations continue ahead of the 2008/09 campaign.
And although Maurice refused to name his target it has been
speculated that it will be for Wolverhampton wanderes left back Charlie Mulgrew.
"I'm currently speaking to a Championship club about a player," commented Maurice, "but we're at the stage now that we need to put a concrete offer in to see if they will accept."
"There is money available," he added, "and we feel this could be the right one, and obviously to get that player we have to come up with a reasonable offer."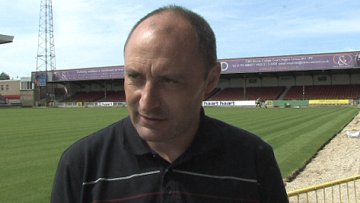 Maurice Malpas discusses the search for players
at the County Ground ahead of the 2008/09 season
Maurice was keen to stress that the Chairman had allowed him a budget to bring players in if it's right for Swindon Town.
"If we can get this player right it will improve the squad."

"There's no point just bringing in a player for the sake of it - I want a player that can fill a few positions and is worth the money."
"I think the fixture list has been good to us," he commented, "first game at home to Tranmere and second game not far away in Cheltenham - we therefore want to start the 2008/09 campaign off to a good start."