Date added: 02 May 2008
That's the Wray we like it!
New STFC deal just the ticket for Town fans
Swindon Town fans will be able to enjoy football at the County Ground for as little as £229 - if 6,000 people buy season tickets.

That's the new initiative just announced by the board, who hope to attract bumper crowds to STFC when the new campaign starts again in August.

how the County Ground looked when Leeds visited this season


"Having the team run out to a half-empty stadium is always disappointing," said Director Jeremy Wray, who has led the reduction in ticket prices.

"And with this deal, I really think we can pack out the County Ground once again on a regular basis.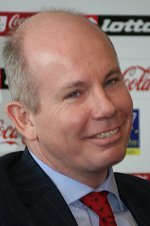 "This deal is great for the fans and will be even better for the players, when they step on to the pitch with such a big crowd supporting them."

Wray did admit, however, that the exciting new prices were a gamble - but one he believes will pay off.

"Fans have been let down by this club over the years and our job is to bring them back and take this club forward."

Fans have until 01 August to buy a season ticket at the reduced price.

If 6,000 are not sold, then a £40 premium will be added to each ticket.
Full details are available on the official STFC website - link below.
Mel Turner-Wright
The race is on!
Swindon Town legend Don Rogers kick-starts "Operation 6K"...

13 May 2008