Date added: 17 April 2008
Stars of the future?
Swindon's footballing youngsters enjoy half-term at STFC
With half-term coming to a close, most kids across the town will be dreading the trip back to school next week.
But for dozens of excited children, Monday morning couldn't come any sooner.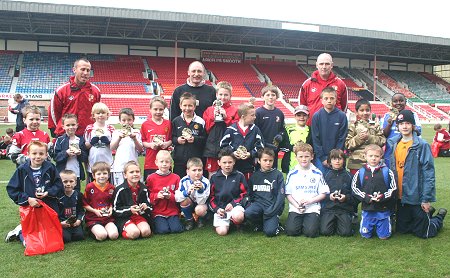 Maurice Malpas with youngsters from the Community Football initiative, who all won awards for their skills
After spending last week learning football tricks - and even a few freestyle skills - from staff at Swindon Town FC, they can't wait to get back to school and show off to their friends.
Dozens of youngsters enjoyed a week of football, football, and even more football, as part of STFC's Community Football initiative - with Maurice Malpas dropping in to end the week with a special awards ceremony.

A select few also received trophies to honour their performances throughout the week, whilst one child picked up the prestigious "Player of the Week" award.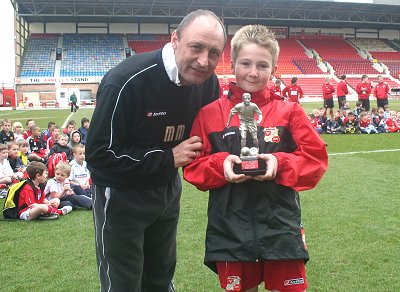 Maurice Malpas presents Calvin Smith with his trophy
10-year-old Calvin Smith received the award for his all-round brilliance throughout the week, and was lost for words when manager Maurice Malpas gave him his trophy.
Calvin's mum, Julie Sanders, said: "He's completely over the moon! He loves football and Swindon Town, and can't wait to put his trophy up in pride of place at home."
Mel Turner-Wright

STFC Community Football Week - 17/04/2008