Date added: 19 April 2008
Swindon Town 6 Port Vale 0
Coca-Cola League One
RESULT: Swindon Town 6 Port Vale 0
Swindon scorers: Peacock (15), Easton (21), Jack Smith (33), McNamee (45), Timlin (47), Joyce (90)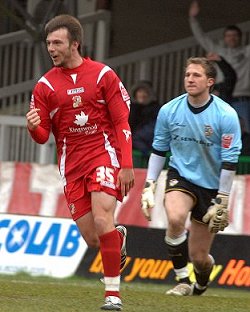 Sweet six-teen:
Ben Joyce celebrates after scoring
the final goal of the afternoon
An outstanding first-half for Town set them firmly on their way to victory over
relegation-doomed Port Vale.
The visiting side posing no kind of threat throughout the game, and leaving Malpas' men with almost open access to goal in front of a jubilant crowd of 7,361.
The first arriving courtesy of Lee Peacock, with a 15th-minute volley from a long ball that Vale's defence had no chance of stopping.
Just minutes later a second goal came from Craig Easton, who held temporary captaincy for the match in place of the suspended Hasney Aljofree.
A third goal came when Jack Smith fired home in the 33rd minute - making it a first for him this season.
An energetic McNamee finally managing to secure a well-deserved goal on the 45th minute - with Timlin coming forward to rub salt in the wound with a fifth just two minutes later.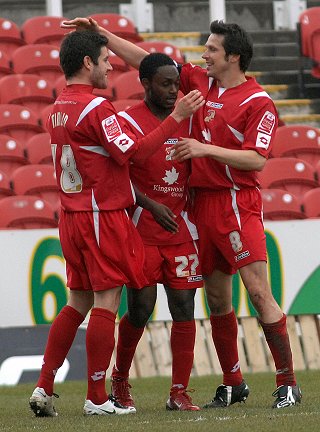 Craig Easton (r) congratulates goalscorers
Anthony McNamee and Michael Timlin
A hard-working Comminges dominated the midfield throughout, offering brilliant support to help the reds achieve some fantastic goals.
Coming in to the second half with a 5-0 lead, a confident Town side slipped slightly on their defence - allowing a glimpse of hope for the visitors, who struggled to make any chances.
Late subsititutions saw the goal-hungry Cox being replaced by newcomer Ben Joyce, and Billy Paynter coming in to replace Peacock.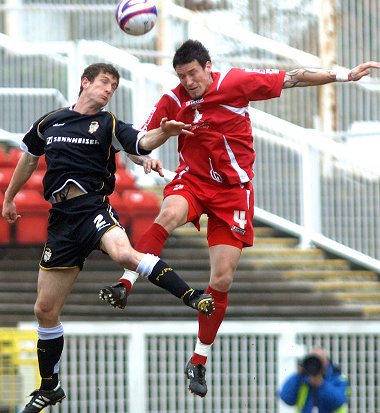 And with the Vale threat becoming even less apparent, Malpas made his final substition of Kaid Mohamed, who came on for the hard working Anthony McNamee.
And what a first team debut for Ben Joyce, whose 90th minute goal leaves fans expecting big things from the youngster next season.
An impressive - but not entirely unexpected - result against bottom of the league Vale moves Town up one place in the table.
But with dreams of a play-off spot remaining just that, it's time for Malpas and his boys to start looking to next season - and with Joyce impressing fans on his debut, it's expected to be exciting times.

The League One table:
1 Swansea 44 36 86
2 Carlisle 44 21 79
-------------------------
3 Doncaster 44 23 77
4 Nottm Forest 44 30 76
5 Southend 44 16 75
6 Leeds 44 32 70
--------------------------
7 Brighton 44 7 66
8 Walsall 44 8 63
9 Tranmere 44 5 62
10 Northampton 44 4 62
11 Oldham 42 8 61
12 Huddersfield 44 -15 60
13 Leyton Orient 44 -13 57
14 Swindon 43 5 54
15 Hartlepool 44 -2 53
16 Bristol Rovers 43 -3 53
17 Yeovil 44 -19 52
18 Crewe 44 -14 50
19 Millwall 44 -17 49
20 Cheltenham 44 -22 48
---------------------------
21 Gillingham 44 -28 45
22 Bournemouth 44 -11 44
23 Port Vale 44 -34 36
24 Luton 44 -17 33


NEXT GAME:


Tuesday 22 April 2008, 7.45pm
Coca-Cola League One

STFC v Port Vale 19/04/08 - 19/04/2008