Date added: 06 February 2008
England 2 Croatia 0
The Lions take victory at the County Ground
England's footballing stars of the future took to the County Ground last night, as the Under 19 squad beat Croatia 2-0.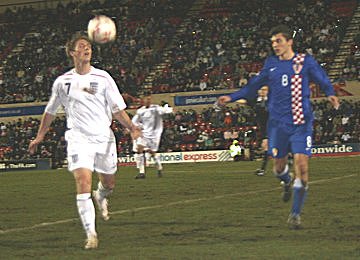 England and Reading striker James Henry (currently
on loan to Norwich City), dominated the midfield

With a shot just right of the post in the first two minutes, it looked like the Croatian side were going to follow in the footsteps of their senior squad, who managed to knock England out of Euro 2008.

But the England U19s held their strength, and with Chelsea's Scott Sinclair using a penalty opportunity to put the Lions 1-0 up after just 19 minutes, it was a performance which had the 11,301-strong crowd on the edge of their seats.

Aston Villa defender and England Captain Ciaran Clark certainly shone as he held up the defence, even coming forward to clinch a 60th minute goal.
Mel Turner-Wright