Date added: 25 February 2008
Media v STFC Staff
Media take a thrashing at the hands of Paul Bodin and co.

It was billed as the game of the season - the press versus Swindon Town staff at Hunts Copse on Thursday night.
And in a fiercely contested 90 minutes it didn't disappoint, as Town staff overcame their Media rivals to seize a satisfying 3-0 victory.

The line-up for the Media included the terrier-like Andy Cryer (Evening Advertiser), the stealth-like James McNamara (Western Daily Press) and SwindonWeb's very own Superman, James Fothergill.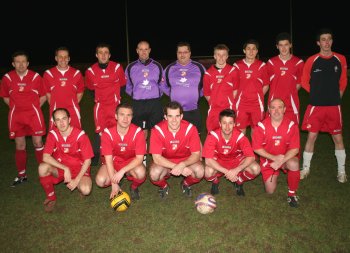 STFC staff, including former
Wales international Paul Bodin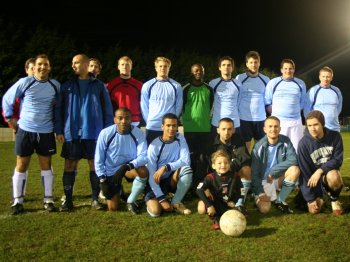 the Media XI looking confident (before kick-off)

But talk of STFC 'thrashings' and 'humiliation' for the media turned out to be wide of the mark.
The boys from the press and web, more than holding their own against a Town side that included ex-Welsh international Paul Bodin and Supermarine midfielder Ian Howell.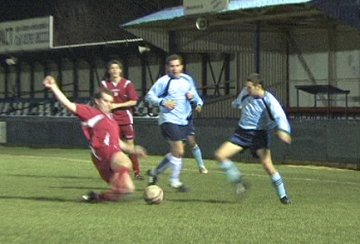 STFC's Chris Tanner takes on the Adver's Andy Cryer
A cagey first-half affair ending just 1-0 to Town - only after a spot of brilliance from Town Youth boss Jeremy Newton, who fired in a spectacular 25 yard effort, worthy of winning any 'Goal of the Month' competiton.

The other notable moment of the first-half was the incredible waist-high lunge from the Adver's top 'hack' Andy Cryer, who was lucky not to receive a yellow card for his challenge.

Unfortunately not even the half-time refreshments supplied by SwindonWeb - or tactical advice from stand-in manager Blair Sturrock - could inspire the Media side to equalise.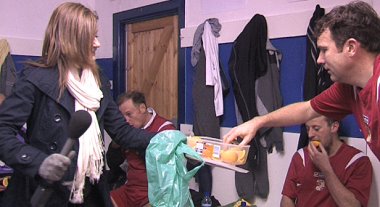 trouble is, our half-time oranges seemed to
help the STFC team more than the Media

The turning point undoubtedly the highly dubious off-side decision against Media's target man (and SwindonWeb's man about town) James Fothergill, just as it looked as though the underdogs were about to level matters (honestly!).
Another two goals from the Town side finally putting pay to any hope for an unlikely recovery, giving STFC staff a comfortable victory.
But despite the defeat, SwindonWeb took their own victory, with James Fothergill awarded Man of the Match by Swindon Town striker Blair Sturrock.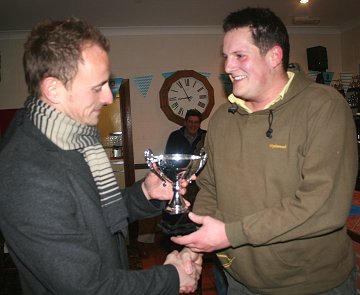 SwindonWeb's James Fothergill receives the
Man of the Match trophy from Blair Sturrock
A performance which Sturrock described as "inspiring", before adding:
"What are you doing on Saturday?"
An elated Fothergill, choking back the tears, was happy to accept the award on behalf of the whole team.
And with a rematch already in the pipeline and a few old scores to settle, the media side are promising to bounce back from this embarassing defeat.
Mel Turner-Wright

STFC Staff v Media - 25/02/2008