Date added: 10 January 2008
Sports Round-Up 10 January 2008
Football - Swindon Town F.C.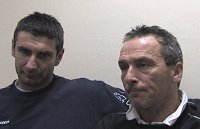 Town caretaker duo looking
forward to their new roles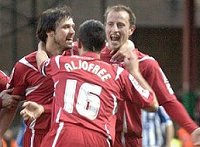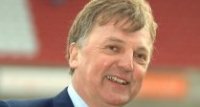 With Town's off-field problems seemingly a thing of the past, Dave Byrne and Ady Williams were in an optimistic mood today in our weekly interview.

The Andrew Fitton-led consortium are all set to seal the deal for the full takeover of the club tomorrow and also unveil Maurice Malpas as the new manager in the near future.

Dave Byrne has also been named as his No.2, but is keen to stress he will continue to keep his finger on the pulse at reserve and youth team level, Williams will also continue in his coaching role.

On football matters the duo admitted that they were disappointed with the result on Saturday against Barnet, but admitted it was the team's own fault for not getting the job done.
However, they feel that come Tuesday the better quality they possess will see them through to the fourth round – and a potential tie against either Fulham or local rivals Bristol Rovers.

Looking to Saturday's game at Walsall, the pair admitted that the loss of Captain Hasney Aljofree is a blow, but with cover in the shape of Jamie Vincent there is no need to worry.

"We will miss Has but Jamie is more than capable to do a good job for us there so it's not too much of a problem," said Byrne.

With a good recent record against Walsall the bosses believe there is no reason why the team isn't capable of getting all three points – and continue their five game unbeaten run.


Football - Swindon Town Ladies F.C.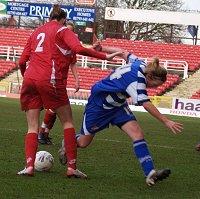 STFC Ladies in action against
Swindon Town Ladies put on a spirited display in the Fourth Round of the Women's F.A. Cup, but were unfortunately beaten 5-0 against the impressive Doncaster Belles.

Four first-half goals were the undoing of the home-side as the Belles notched up an unassailable lead with goals from Vicky Exley, Precious Hamilton and two from Emily Heckler.

However, in the second-half the Town Ladies produced a highly impressive and spirited performance, and were only undone by an injury time goal from Claire Cantrell.
Football - Swindon Supermarine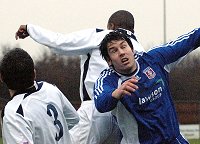 Action from Supermarines 5-1
Swindon Supermarine banished their New Year's Day loss to Bashley with an emphatic 5-1 demolition of Yate Town.

The impressive scoreline was helped by the sending-off of two Yate players in the first 20 minutes. However, Marine were good value for their victory – their biggest of the season so far.

Yate were enjoying a fine run of form before their trip to Hunts Copse – unbeaten in six games.

Manager Mark Collier was delighted with the performance.
"To score a few goals and make a few chances was pleasing, obviously three points is what we wanted, and we don't mind how they come."
See gallery below.
Ice Hockey - Swindon npower Wildcats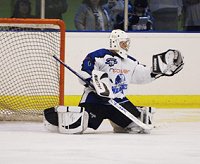 The Wildcats were unable to follow-up their impressive victory against Slough, with a disappointing weekend both home and away.
On Saturday they suffered a convincing 8-1 loss away to the Milton Keynes Lightning. Then on Sunday they were unlucky to go down in a shoot-out, eventually losing 4-3 to league leaders, Guildford Flames.
This weekend sees the Cats host Peterborough and then face a very tricky trip to Bracknell to face the high-flying Bees.
Martial Arts - British Championships
In December, 15 students represented the Swindon and Wiltshire Matt Fiddes Martial Arts School, which is run by Swindon born Pat O'Driscoll, at the British Championships at the N.E.C in Birmingham.

Competing against 500 martial artists from all over the British Isles, the Swindon students performed brilliantly and their hard work and dedication paid off, as they returned from the tournament with 4 British Champions, 2 Runners Up and 4 Semi Finalists.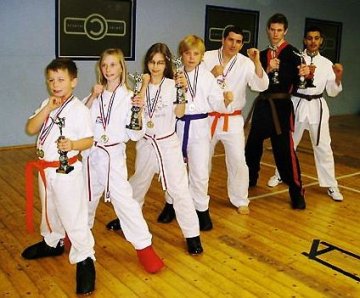 British Champions from Swindon Martial Arts School

Newly crowned Champions were Megan O'Driscoll, Zain Zafar, Marcin Madej and Jordan Wain, the youngest being Megan who is just 10 years old.
"I am proud of all," commented O'Driscoll, "those who took part showed inspiring strength and courage to compete in their first tournament with such great attitude and technical ability."
All medallists qualified to take part in next year's World Championships when they will compete against students from as far away as Australia, and Mr O'Driscoll is hopeful of more champions from his growing schools.

Supermarine v Yate - 05/01/2008
Swindon Town 1 Barnet 1
Town denied as late goal seals a replay for Barnet - and it's Rovers or Fulham in the next round...

05 January 2008