Date added: 13 April 2009
Swindon 0 Orient 1
Coca-Cola League One
RESULT: Swindon Town 0 Leyton Orient 1
Orient scorer: Demetriou 3

Town's survival in League One will go down to the wire after Orient stunned the County Ground with a third-minute winner.
Defender Jason Demetriou the unlikely scorer with a superb strike from 20 yards out, as Swindon were caught cold by their fast-starting visitors.
A set-back that Town failed to recover from despite creating a number of chances for leading scorer Cox and strike partner Paynter.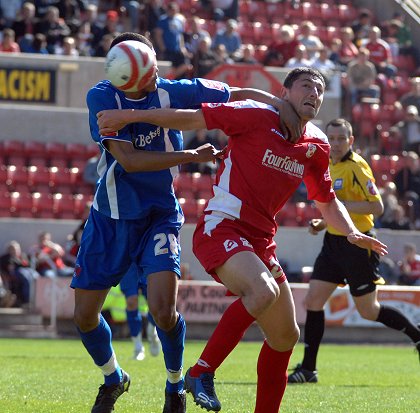 The closest efforts bouncing off the bar and the post, as Swindon failed to breakdown a resolute Orient defence clearly happy to defend their lead.
But with results elsewhere going their way, the Robins remain six points above the relegation zone - albeit with three tough games remaining.
"We've made it difficult for ourselves again, haven't we?" said a frustrated Danny Wilson, "and the pressure is back on us to get a result at Carlisle."
League One table
1 Leicester 43 40 89
2 Peterborough 42 24 82
-----------------------
3 MK Dons 42 34 78
4 Millwall 42 11 76
5 Leeds 43 22 75
6 Tranmere 43 15 72
-----------------------
7 Scunthorpe 41 17 70
8 Southend 43 -3 67
9 Huddersfield 43 -4 63
10 Oldham 43 2 61
11 Walsall 43 -4 58
12 Bristol Rovers 42 15 57
13 Stockport 43 3 57
14 Colchester 43 -3 57
15 Leyton Orient 43 -9 55
16 Yeovil 42 -22 49
17 Swindon 43 -4 48
18 Hartlepool 43 -10 47
19 Crewe 43 -18 46
20 Carlisle 43 -15 45
-----------------------
21 Northampton 41 -3 42
22 Brighton 42 -19 42
23 Cheltenham 42 -36 35
24 Hereford 42 -33 33
Three games to go
Carlisle (A)

Saturday 18 April 2009 3:00pm
Coca-Cola Football League One
Bristol Rovers (H)
Saturday 25 April 2009 Noon
Coca-Cola Football League One
Peterborough (A)

Saturday, 02 May 2009 3:00pm
Coca-Cola Football League One

Swindon v Orient - 13/04/2009