Date added: 17 April 2009
Town cash crisis?
Power case back to haunt new Swindon board
Just when Town fans thought it was all over, a fresh cash crisis now appears to be looming over the County Ground.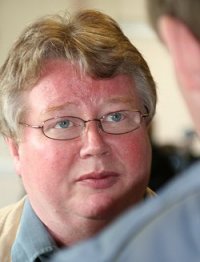 believes he has a strong case
Reports indicate that former Town backer Bill Power could potentially win a court hearing in his favour to recover £1.12 million pounds he invested in the club back in May 2006 when it was owned by Sir Seton Wills. A ruling that could eventually cost Swindon Town nearly £2 million pounds when legal fees are included.
Swindon Chairman Andrew Fitton has admitted the court action brought by Power has "done significant damage to the club", who have already spent nearly half a million on lawyers so far fighting the case.
Andrew Fitton led a consortium including Sir Martyn Arbib, Andrew Black and Jeremy Wray to buy a controlling 75% interest in the club from Sir Seton in January 2008.
Bill Power, the former chairman of QPR, severed his links with STFC in September 2006, citing ill health a month after a plane carrying himself and two other Town officials crashed while returning from Swindon's first game of the season at Hartlepool.
A High Court decision could be made as early as next month.