Date added: 28 April 2009
Stand by me
Two days left for your chance to name your own stand!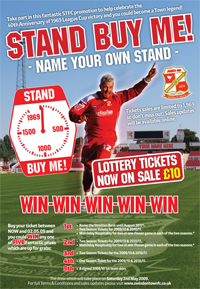 Name the Stratton
Bank Stand:
for only £10 be in for your
chance to name a
stand at the County Ground
Have you ever wanted a bigger presence at the County Ground? Well, here's your chance!
Swindon Town Football Club are offering a 'Stand By Me' initiative - that will allow one lucky winner to name the Stratton Bank stand what ever you want.
The draw will take place this Saturday on Soccer Am on Sky Sports, with ticket sales closing this Thursday!
In to win

"For only £10, you can buy one of only 1,969 tickets, which allows one person the opportunity to win and name the stand for the next two seasons," commented Nick Watkins, Chief Executive of Swindon Town Football Club.
"All the money raised will go towards our Youth Development Department at Swindon Town, which plays a crucial part to our football team.
"This last season we have seen the likes of Sean Morrison, Callum Kennedy and young Lloyd Macklin coming out - so this is what the Youth Development is all about."
To grab your ticket either visit the Swindon Town Football Club website via the link below, you can also pick them up from the club shop, or contact
kay@swindontownfc.co.uk
.
Good luck!