Date added: 10 August 2009
Choice words
Town boss looks for a response after training ground 'discussion'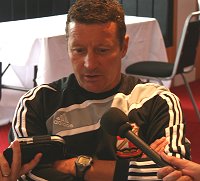 Manager Danny Wilson
at today's press conference
There was only one topic of conversation at today's press conference with Swindon manager Danny Wilson - and it wasn't the weather.
Town's 5-0 thrashing at the hands of Gillingham on Saturday dominated proceedings, with Wilson keen to emphasis he is confident the performance would not be repeated.
"We were at the training ground this morning and a few choice words have been said, and hopefully we'll get a response from this," he said.
"It's important that we get Saturday's performance out of our systems, and having a game so close [MK Dons tomorrow] is the perfect way to do this.
"We were below par at the weekend and I don't want a repeat performance.
"I was disappointed with all of the team especially as throughout pre-season we looked tight and solid and a team that would be hard to break down, but Saturday was completely the opposite.
"Like I said after the game, we owe the fans a lot of respect and what I mean by that is we need to show them a better performance - I'm confident that we will turn it around and not have a performance like that again."
Carling Cup
"It's very high up in my list of priorities," Danny added. "Any Cup competition this season is one we want to do well in – any revenue is of course welcome.
"What we want to do more than anything though is to put a good performance in, that's high on my agenda"
Is Jerel Ifil going to Aberdeen?
"This is up to Jerel really, but we will see if anything develops. As for a fee for Jerel it depends how much Aberdeen want him."

"The thinking behind this possible move is a combination of too much cover in the centre back position and his wage – if Jerel leaves it will give us the freedom to thinks money when bringing a striker in."
Swindon 0 Millwall 1
Fans' agony, Austin in tears and FITTON FURIOUS - it's no Wembley dream for Town...

29 May 2010

Swindon 2 Charlton 1
Austin and Ward give Town the advantage - WATCH SWTV FANS' VIEW + MATCH PHOTOS...