Date added: 26 September 2009
Swindon 1 Wycombe 1
Coca-Cola League One
RESULT: Swindon Town 1 Wycombe 1
Swindon scorer: Amankwaah 17
Wycombe scorer: Chambers 89
Town fans can't wait for the first appearance of new striker Charlie Austin after they watched their side again fail to clinch victory after going ahead.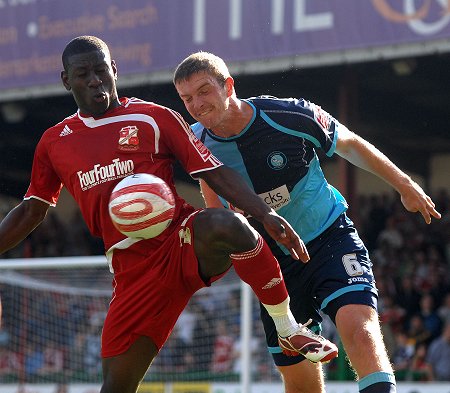 Town striker Temitope Obadeyi shields the ball
Kevin Amankwaah the man on target just after the quarter-hour with a close range conversion that Swindon fully deserved.
But a combination of poor finishing and determined defending from the visitors denied Town the all-important seond goal - leaving home supporters in despair after Wycombe eventually grabbed a late equaliser.
Disappointment made even worse when Billy Paynter then missed a point-blank header in the final minute.
Austin, who sat in the Arkell's stand throughout the game, signed this week for Swindon from non-League Poole Town Danny Wilson confirmed after the game.
Tuesday, 29 September 2009 7:45pm
Coca-Cola Football League One
Brentford (A)
Saturday, 3 October 2009
Coca-Cola Football League One
Exeter (A)
Tuesday, 6 October 2009 7:30pm
Johnstone's Paint Trophy

Swindon v Wycombe - 26/09/2009
Swindon 0 Millwall 1
Fans' agony, Austin in tears and FITTON FURIOUS - it's no Wembley dream for Town...

29 May 2010

Swindon 2 Charlton 1
Austin and Ward give Town the advantage - WATCH SWTV FANS' VIEW + MATCH PHOTOS...

Millwall 3 Swindon 2
Town to face Charlton in the play-off semis - first leg next Friday...

08 May 2010

Leeds 0 Swindon 3
Top two for Town as Paynter and Austin stun Leeds again...

03 April 2010

Swindon 1 Norwich 1
Last-gasp Greer caps brilliant week for Town - SWTV FANS' VIEW + MATCH PHOTOS....

Brighton 0 Swindon 1
Austin steps up to give Town back their confidence despite first-half injuries...

13 March 2010

Orient 0 Swindon 0
Wilson settles for a point despite call for late penalty...

27 February 2010

Swindon 2 Carlisle 0
Paynter & Austin on target again but late Greer injury a worry - MATCH PHOTOS...

20 February 2010

Austin signs
Star striker commits to two-year deal at Town...

02 February 2010

Swindon 3 Leeds 0
Onwards and upwards, Town stun the League leaders - WATCH SWTV FANS' VIEW

Pericard signs
Swindon make their first major signing in the transfer window...

14 January 2010

Fulham 1 Swindon 0
Zamora the difference as Premiership quality proves too much...

02 January 2010

Charlton 2 Swindon 2
Town players gutted as nine-man Charlton score at the death...

26 December 2009

Swindon 1 Woking 0
No shock as Paynter sends Town into the second round...

07 November 2009

Brentford 2 Swindon 3
New striking line-up reaps rewards as Town hang on in a thriller...

03 October 2009

Walsall 1 Swindon 1
Paynter penalty saves a point as unbeaten run extends to nine...

19 September 2009

Swindon 2 Southend 1
Town's good form continues as they take all 3 points this Bank Holiday...

29 August 2009

Oldham 2 Swindon 2
Last second equaliser denies Town after frantic finish...

22 August 2009