Hair & Beauty: SHELLAC NAILS
Hannah Glass explains all about this top nail product + where to in Swindon
One of the down sides of being female is the idea of having to keep on top of your manicure, am I right?

If you're fed up of having to top your nail varnish up every couple of days because you can't find a polish that doesn't chip when you peel a banana, shellac is made for you.
Shellac manicures are relatively new in the nail business but fast becoming the most popular options for busy-bodies or just for someone that doesn't want the fuss.
Shellac is a nail polish that lasts up to 2 weeks without any chipping, scratching or peeling. Too good to be true? No way Jose, Shellac is painted on just like any other polish and then a UV light is applied to set the polish. It dries in seconds and is perfect every time.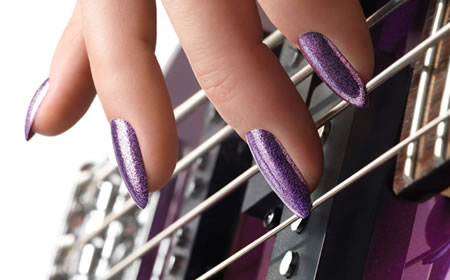 CND Shellac Nail Polish - Rock out with confidence!
Marketed as the "Power Polish" it's perfect for those of you that just don't have time to sit and wait for your nails to dry and get sick and tired of unsightly chipped polish.

And because it's applied just like a normal nail varnish, there's no nail damage either! A winner all round.
If you're off on holiday for a fortnight and don't want the hassle of worrying about your nails or even if you're stuck at work and just want one less trouble of your mind, Shellac is the product for you!

Where to in Swindon...

We've tracked down the best places in Swindon that you can go get your one-of-a-kind manicure:
Hair & Beauty: HAIR OILS
Rainy summer playing havoc with your hair? Hannah Glass explains why hair oils are the in-thing + where to in Swindon...