Date added: 11 November 2006
Army of Poppy people out in force
Ex-serviceman and volunteers have been busy raising funds for the British Legion this weekend.
With Armistice Day - which commemorates the end of world war one - taking place today, thousands of pounds has been donated and those who lost their lives in various conflicts rememebered.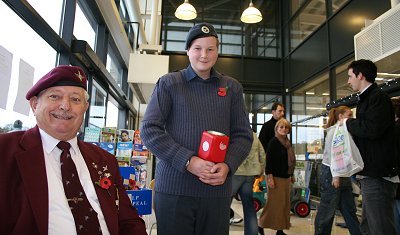 Fundraising front line:


Airbourne veteran George Platt and Air Cadet


Doing his bit at the Asda Walmart store in north Swindon today was ex-para George Platt, 69, who saw action in Suez, Cyprus and Borneo - and who has just recovered from a triple heart bypass operation in September!

The Penhill resident selling poppies to shoppers for the last eight days aided by young assistant, Charlie Proctor, 16, of the 2003 Squadron Stratton Air Training Corp.

"I've been doing this since 1960," George said, "27 years of which in Swindon."

"I feel honoured to do it. Those who have given their lives for Britain in the wars and since deserve to be remembered."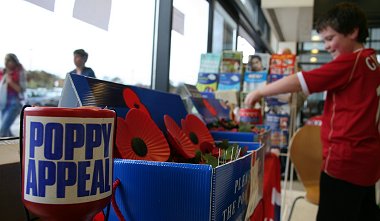 Giving generously:


one young shopper adds to the Poppy Appeal coffers
The Poppy Appeal, which began in 1921, has raised vital funds to support ex-servicemen and women and their families. Last year alone it brought in over £21 million for the cause.

Rememberance Sunday 2006 - 11/11/2006