Date added: 26 November 2006
Family mis-fortune for Melinda
Our survey says: Melinda Messenger - plus her nearest and dearest - did Swindon proud on TV last night - thanks to a good knowledge of bodily functions!

The former model-turned TV celebrity made an appearance on ITV's All Star Family Fortunes alongside hubby Wayne, father Terry, brother Warren and close friend Howard.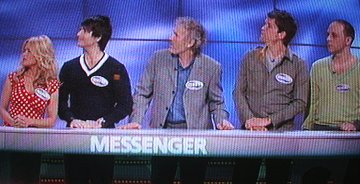 Game for a gameshow:
the Messengers on Family Fortunes

The fivesome beating ex-Blue singer Lee Ryan and his family to win £1,569 for Melinda's chosen charity, Action Aid, with a clean sweep on the question.

'Name a sound that your body might not be able to control...'
Terry Messenger grabbed the top answer with 'Fart'; Warren won a wing-walking lesson with 'Sneeze'; Melinda herself confidently answering 'Hiccup'; Wayne with 'Tummy Rumble'; and Terry, again, wrapping up the bonus points with 'Snoring'.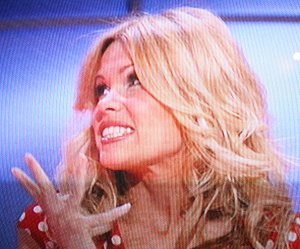 Unknown talents:
Melinda Messenger
That led to Swindon's golden girl and Wayne later in the show playing for big money - only to goof it up with the last question of the night.

Under pressure, Melinda was asked by host Vernon Kaye:
"Name something you do in a lift?"

With "Wee!" the surprising reply coming from the former page 3 sensation. An answer that led to the show's now trademark sound "Uh-Uh!" and the pair just losing out on the top donation of £10,000.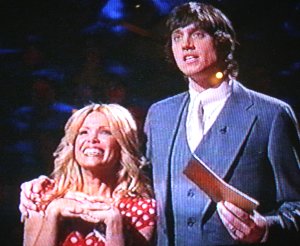 Nipples, you say?:
Melinda and Vernon Kaye in the big money
final

Other mildly embarrassing moments revealed on the show included Melinda's secret party piece - burbing names! - and her unexpected choice when posed with the question:

"Name a part of your body you might have pierced?"

"Nipples!" being the response that raised the biggest laugh of the night - and which, even more surprisingly, scored 5 votes in a survey of 100 people.

Well, they did make her famous in the first place, didn't they?