Date added: 10 March 2008
Highworth High Streak Traders
STORY UPDATE:

06 March 2007 07.32am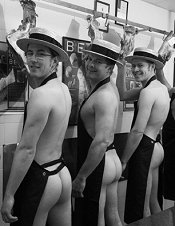 Oooh... cheeky!:
Andrews Meats, who
Highworth High St. calendar raises £8,000 pounds.
It started as a bit of a laugh to raise the profile of Highworth High St.

But after gaining national exposure for their antics and selling over 1,000 calendars, a cheeky initiative by a bunch of game shopkeepers has raised over £8,000 pounds for a local cancer charity.

At a specially arranged party to celebrate its success, a cheque was presented to Macmillian Cancer Support on behalf of all those who took part and organised the 2007 Highworth Calendar.

"I cannot thank them enough," said Macmillian fundraiser Jill Thornton, "the whole effort has been absolutely wonderful. It's one thing to say you'll do something for charity, it's completely another to actually do it - especially taking your clothes off!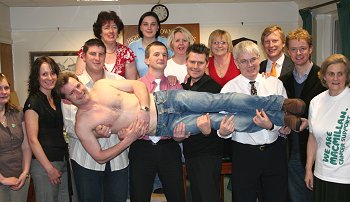 All for a good cause:


the Highworth Calendar group reunite for
one last picture for the cheque presentation

Macmillan Cancer Support helps improve the lives of people affected by cancer, and this money will make a huge difference in doing that."

"I actually enjoyed doing it," commented Lesley Poulton, who bared all for the Brooks's Coffee Shop picture, which is the main feature for December, "and I'd have no hesitation in getting my kit off again if they asked me."
STORY UPDATE:

11 December 2006 07.56am
Jonathan Ross loves Highworth Calendar!
When AJ and Helen, the landlord and landlady of the Saracen's Head Hotel, gamely agreed to pose nude for the Highworth Calendar they expected the odd bit of rib tickling - but not live on Radio 2 from Jonathan Ross!

The quick-witted - and often acid-tongued - BBC presenter revelling in mocking AJ's body shape on his Saturday morning show after being sent a picture of the fundraising calendar.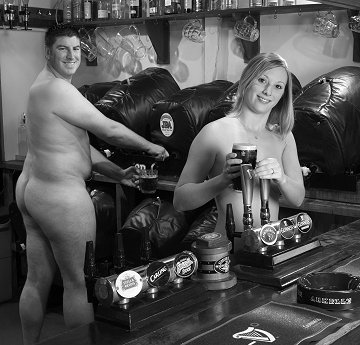 Figure of fun:


AJ and Helen from the Saracen's Head posing for the
Highworth Calendar

"The gentlemen has quite a large bottom and a tiny head! Like a pin head, poor fella!" commented the TV star.

And that was just the nice bit! Poor AJ!

Taking it in all in good spirits, though, the Arkell's landlord says he's been more than used to a spot of mickey taking in the last few weeks.
"Everyone who has come into the pub is talking about the calendar," he said, "and especially my picture!"

"But I don't mind. It's all in a great cause and I'm delighted to be part of it!"
To hear Wossy's full diatribe on AJ's rear end and head shape, just click on the link below.
Jonathan Ross
PLAY CLIP

Jonathan Ross
- BBC Radio 2

Highworth Calendar
- BUY NOW

Saracen's Head
- website
Copies of the Highworth calendar are available to buy from various outlets in Highworth High street and online.
STORY UPDATE:

05 December 2006 09.31am
Vote Highworth traders tops for sauciness!
The calendar produced by Highworth high street traders has been nominated as one of the best in the country by The Telegraph newspaper.

And we need your vote to make sure it stays top of the contest!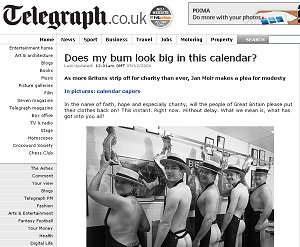 Grabbing national exposure:


the Telegraph featuring the
The paper has highlighted a whole host of saucy calendars where people have stripped off in aid of various charities - with Highworth's butchers, bakers and Christmas-cake makers clearly the most impressive.

"It's great to the get such good publicity," said Simon Apps, who took the photographs, "and it's all helping to put Highworth on the map and raise as much money as we cam for Macmillan Cancer Support."

To see the Telegraph article (featured in the 05 December edition), just click on the link below. THE VOTING SECTION IS AT THE TOP RIGHT OF THE PAGE.

Copies of the Highworth calendar are available to buy from various outlets in Highworth High street and online.

Telegraph article
- vote now

Highworth calendar
- vote now

Highworth's High street effort has also been featured on ITV's 'This Morning' programme.

Cheeky hosts Fern Britton and Phillip Schofield particularly impressed with the picture of Rafu, who is the main feature for April.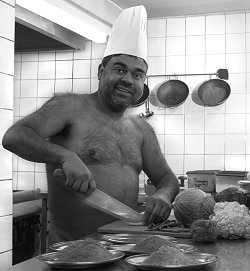 Hot and spicy!:


Rafu - as featured on This Morning
"Isn't he furry!" exclaiming Fern when describing the game Indian restauranteur chopping chillies in the buff.
---
22 November 2006
Things have been really steaming up in Highworth High Street of late – and we're not just talking about County Dry cleaners.
A saucy new calendar has been created to promote the shops and services available in the High Street - and show the people who work there as you've never seen them before!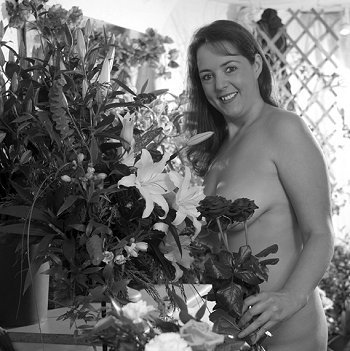 Nice pair of buds:
Clare Banfield from Gillian's Flowers reveals all

Twelve traders including Rafu, the landlord of the Saracen's Head Hotel, the owner of Gillian's Flowers and the girls from Two's Company have been stripping off in aid of Macmillan Cancer Support - and raising more than the odd eyebrow in the process.

"It's been great fun doing it," said Paula Martin from Highworth Dental Practice, who with dentist Siobhan Owen are the main feature for the month of March.

"Once we'd overcome the embarrassment factor its is was quite easy! And it is all for a very good cause."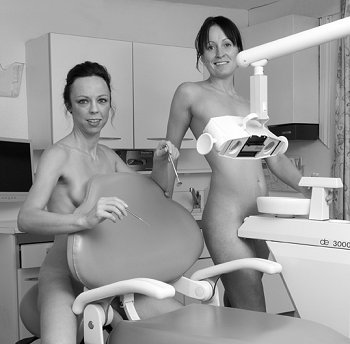 Sit back and relax:


Siobhan Owen and Paula Martin of Highworth Dental Practice

Snapped by locally-based photographer Simon Apps of Professional Images, who provided his services completely free of charge alongside calendar designer Lee Hiom, the pictures taken are described as "risqué but tasteful".

"I wanted to get involved because I've just lost a 39-year-old friend to cancer, and it sounded like such a great idea to raise money whilst promoting Highworth," Simon said.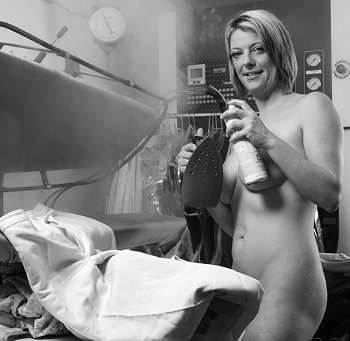 Im-press-ive!:
Karen Skinner of County Dry Cleaners
The calendars, which cost a minimum donation of £7.50 (£10 preferred!), are available to buy from various outlets in the High Street and online via the link below. But be quick, they're selling out fast!

If all are sold it is hoped the calendar, which has been printed by Kall Kwik, will raise over £10,000 for the cancer charity.
Jingle Belles!
Swindon's hottest collaborate for Macmillan Cancer Care - BUY HERE BOYS!...

22 December 2010

In the Pink
Highworth high street traders raise even more money for charity...

11 October 2009

One lump, or two?
Swindon coffee mornings raise money for cancer charity...

26 September 2009