Date added: 12 November 2006
Farepak Fiasco
STORY UPDATE:

06 December 2006 10.04am
Klass Act From Myleene
Myleene Klass announced today that she is putting her famous jungle bikini up for auction to raise money for the victims of the Farepak fiasco.

The stunning singing beauty who arrived home after starring in the TV show 'I'm a Celebrity...Get Me Out Of Here!' has put her swimwear up for grabs on eBay.

"I'm coming home to a great Christmas with my family and I know others might miss out because of what has happened," said the former Hear'say babe. "I don't know how much the bikini will raise - but I wanted to do my bit and hope it helps."

The auction that closes tommorow has already received 50 bids, with £2500 being the leading offer.
The bikini eventually sold for £6,000!
STORY UPDATE:

02 December 2006 10.04am
Santa surprise for Farepak family
A family of four hit hard by the Farepak collapse have been treated to a trip to Lapland - thanks to the Nationwide Building Sociey.

Dream Trip
- full story
STORY UPDATE:

01 December 2006 1:05pm
Farepak victims to get back 15%
A special relief fund set up to help stricken Farepak savers has topped £6 million - given hope to those left out of pocket this Christmas.

Generous donations from companies and individuals will now go towards helping those affected by the Swindon-based company's collapse.

Administrators have indicated that former Farepak members may receive 15 pence back for every pound they saved - up from a 4p earlier estimate.

Notable acts of generosity include Barclays bank donating £250,000 and Nationwide £50,000.

"It's only right we support the fund," said Phillip Williamson, Chief executive of the Swindon-based building society.

"We should make Christmas for Farepak Victims just that little bit better."

Halifax Bank Of Scotland have also been seen to donate one of the largest amounts of £2 million, although have been criticised for the original collapse (see story below).

"Swindon's Farepak disaster has brought to the surface the serious lack of consumer protection," said a member of the commons treasury committee.

As an added bonus, Consumer minister Ian McCartney has also been in talks to buy hampers for those affected.


STORY UPDATE:

17 November 2006 3:47pm
Just 4p in the pound for Farepak victims
Savers out of pocket following the collapse of Farepak last month have been informed of the compensation package on offer - just 4p in the pound.

The company's administrators, BDO Stoy Hayward, confirmed today that any customer who handed over £1000 to the hamper firm will receive just £40 back, with no monies being paid until after Christmas.
"Our figures are based on our current estimates on the number of customers that are involved and the value of Farepak's assets to be shared out," said a BDO spokesman.

"It's not much, is it?" said Diane Pettit, who lost £700 when Farepak called in the administrators on 13 October, "not when you consider Farepak's bankers [HSBOS] got their money out (estimated at £35 million) before it all went pear shaped."

In the meantime, an emergency fund set up to help those effected by the crisis continues to grow.

Now standing at £4 million after stores such as Tesco and Marks and Spencer made major donations, the charity administering the fund has said it will provide Farepak agents with vouchers by December 18.


---
Support gathers for Farepak victims
12 November 2006
Christmas cheer is pretty short on the ground at the moment amongst victims of the Farepak hampers fiasco.

But with donations of goodwill continuing to flood in, it looks like some of those who have lost money in the Swindon-based company's demise will at least receive something back.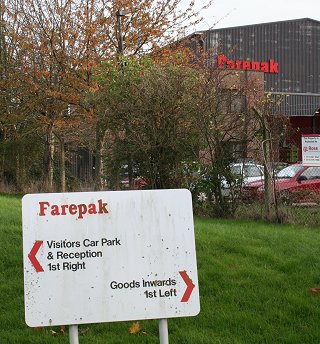 Christmas cancelled:


the Farepak Headquarters in Westlea

Department store giant Marks and Spencer and supermarket group Tesco have already pledged £250,000 each to help those out of pocket - plus rival savings club Park Group have put £1 million into a rescue fund.

Sainsburys have also agreed a deal to hand over shopping vouchers to the value of 25% what each Farepak customers had been saving for.
All gestures that have been welcomed by those affected by the scandal.

"I haven't received anything yet, but it will make a difference when it comes," said one former saver, who lost over £1,100 when Farepak shocked everyone by calling in the administrators on 13 October 2006 with debts of £50 million.

That left its 150,000 customers facing a bleak festive period, with all hope of retrieving their savings seemingly doomed after the company ceased all direct contact and an initial plan by the British Retail Consortium was deemed 'unworkable before Christmas'.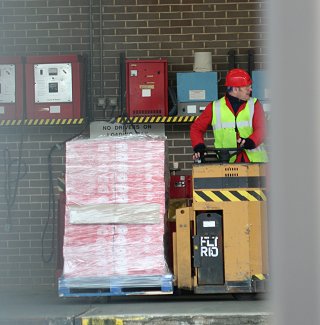 Still on the go?:


activity continues at Farepak, with hampers
- reportedly for Marks and Spencer -
still being packed and distributed

A campaign by South Swindon MP Anne Snelgrove has since helped put pressure on the government to investigate the company's collapse - and launch a relief fund for its victims, all of which has pushed the fiasco into the media spotlight.

"I'm doing everything I can," Ms. Snelgrove said, "the whole episode has been an absolute disgrace."

Farepak, who have been trading from their Westlea headquarters since 1969 - and marketed their savings scheme as a 'family friend' to its loyal band of customers - was thought to be in good financial shape until its parent company EHR [European Home Retail] borrowed £35 million to help Farepak's sister company, Kleeneze, buy book distributor DMG in 2000 - a move that proved disasterous.
Unable to pay back the loan after selling the loss-making DMG for £5 million in 2003, its bankers HBOS pulled the plug on Farepak 3 weeks ago, thus causing chaos amongst its savers who appear to have lost everything.

It is reported that the directors of Farepak put forward five seperate financial packages to HBOS to try and avoid administration - all of which were rejected by the bank.

"One minute I'm looking forward to Christmas, next minute I'm sick to the stomach," said customer, Cheryl Needham, "so I hope the directors of Farepak and the bankers are happy."

"All of them should be ashamed of themselves."
So un-Fare
The Farepak fiasco continues - but legal action could go ahead...

13 May 2008