Date added: 24 October 2006
Billie Book Signing at Asda Walmart
Fans queue for hours to meet Swindon star
Billie Piper arrived back home in Swindon tonight - and caused quite a stir in the process.

The Doctor Who favourite made a special appearance at the Asda Walmart superstore in north Swindon to sign copies of her autobiography 'Growing Pains' - and meet the mass of fans who turned out to see her.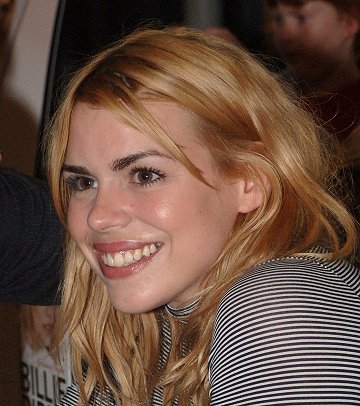 "It's great to be back - and wow! what a crowd," Billie said, on seeing the 300 yard queue that had already snaked round the outside of the store by the time she arrived at 5.15pm.

First in line were nine-year-olds Katie Hunter and Lilly Cox, who had waited over three hours to finally get a glimpse of their idol and have their treasured copy of her book autographed.

"Billie's brilliant," said Katie, "I loved her as Rose Tyler in Doctor Who and I watch everything she does on TV."
"She's my hero," said Lilly.
Although still only twenty-four, the much-awaited autobiography tells the story of how Billie turned from an aspirational schoolgirl growing up in Swindon into a mega-selling pop singer and now an award-winning actress - plus all her showbiz trials and tribulations in between.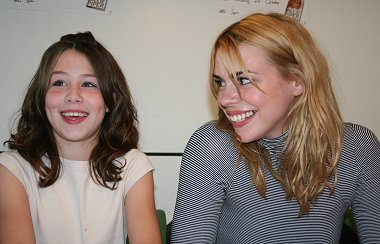 Go girls!:
Billie gave the opportunity to two lucky fans to sit
with her while she signed autographs
Billie, who had originally arranged just a one-hour signing session in the store, eventually spent over three hours meeting her fans; happily posing for pictures and telling stories of her life as a TV time-traveller.
Billie can be seen next on television at Christmas, when she stars as Sally Lockhart in the Victorian sleuth story 'The Ruby in the Smoke'.

Billie Book signing at Asda Walmart - 24/10/2006
Billie's Back
Swindon star confirms return to Doctor Who...

28 November 2007

Billie Piper
Swindon's pop star turned award-winning actress...