Date added: 03 September 2006
Howell just misses out on second BMW title
Swindon pro just misses out on second title
UPDATE: 03 September 2006 5.34pm
Last hole
agony for Howell
Swindon's David Howell has just missed out on his second BMW International title.

The European number one and Broome Manor member failing to hole out from 5ft on the 18th green to finish one shot off a play-off.

Swede Henrik Stenson eventually securing the £250,000 first prize after defeating Padraig Harrington and Retief Goosen on the first extra hole.

Howell, who was defending champion and led by two going into the last day, failed to show the form that had taken him to the top of the leaderboard and was disappointed with his final round 72.

"It just didn't work out for me today," he said, "I never got going."
Howell does have the consolation, however, of knowing that his performance has cemented his position at the top of the European Order of Merit and that he has been named as a 'key player' for the European team in next month's Ryder Cup.

In announcing the two wild cards for the biennial clash with the USA - Lee Westwood and Darren Clarke - team captain Ian Woosnam singled out Howell for praise as being the team's 'most improved player' and a 'proven winner'.

European Tour - website
UPDATE: 02 September 2006
Howell shrugs off injury once again to find top form

Just what is it with Swindon's David Howell and injuries?

While other world class golfers tend to play their best by working on their swing or seeking the help of a sports psychologist, our David just has to pull a muscle or fall over while jogging to find top form.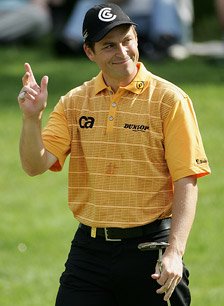 Bouncing back:


Defending champion David Howell,
who leads by two going into the

Just two weeks ago, Howeller aggravated his shoulder and twisted his knee while practicing for the US PGA championships - injuries that looked to have seriously compromised his season and even threaten his participation in next month's Ryder Cup.

But today, the Broome Manor pro looked every inch a champion athlete by taking the lead in the BMW International with a scintilating third round 66.

The winner of this tournament in 2005 and world number ten, leads Swede Martin Erlandsson and fellow Ryder Cup teammates Padraig Harrington and Colin Montgomerie by two shots.

"It's funny how it seems to work out," Howell amused, "I seem to be so accident-prone, but do tend to bounce back really well."

"I can't say it's the way I like to do things, though. Getting injured is very, very frustrating. And I do get more than most."

Rewind to this time last year and Howell was in exactly the same position - playing again after a lengthy lay-off caused by tearing a stomach muscle while swinging a weighted club given to him by VJ Singh. He won - outgunning John Daly down the stretch with a final round 65.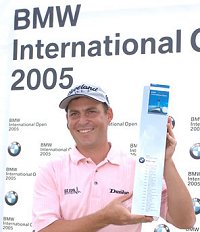 Good omen:


Howell won the BMW
International last year after
coming back from a similiar

Full story
Just before winning the PGA Championships in May (also sponsored by BMW) he was nursing a bad back and took a month off; and in 2002 he came back from breaking his arm while jogging near his home in Broome Manor to record a brilliant end to the season.

So without wishing Swindon's best any misfortune, we think perhaps a broken finger nail or a slight nick while shaving should be just enough to secure his fifth Tour title this weekend - and Ryder Cup Glory next month.

European Tour - website

BMW International - leaderboard and info.
David Howell Interview
SWTV speaks to the Swindon golf star ahead of this week's Ryder Cup - WATCH VIDEO

21 September 2012

What a shot!!!
Gong-ho David Howell enjoys the luck of the Irish in golf challenge - WATCH VIDEO...

16 August 2010