Date added: 18 August 2006
Smoke Free Swindon
Figures published this month by the Primary Care Trust reveal that an extra 500 people have quit smoking this year, beating the Department of Health's local PCT target of 2,726 people.

The government wants to reduce the number of smokers in the UK by 21% before 2010 and Swindon is doing well to set an example.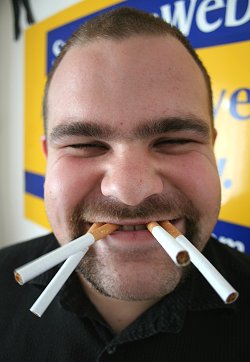 Disgusting habit:


our posed picture shows how
smoking can take control of your life

As a ban on smoking in public places looms, with local pubs such as Dockle Farmhouse already leading the way, it seems Swindonians are increasingly managing to conquer their habits.

Swindon PCT's Stop Smoking Service Co-ordinator Cherry Jones attributed the success to the hard work of staff.

The figures come shortly after a PruHealth survey ranked Swindon as the fifth fittest town in the UK, despite the fact that 33% of us still enjoyed a good smoke.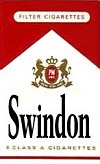 Swindon:


a fuller flavour

Whilst that figure is unlikely to have changed dramatically, Swindon's smoking population is undoubtedly diminishing.

But the ongoing question is what are the most successful methods of quitting?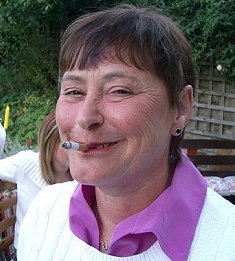 Oh, just one more!:


1 in 3 Swindonians enjoy

"The PCT runs an NHS Stop Smoking Service which offers support to anyone who wants to stop smoking," says Cherry Jones. "The service offers everything from a freephone helpline to one to one counselling.

"People can also now get nicotine patches and gum on prescription."
But for the many that have tried every kind of patch and chewed more gum than Violet Beauregarde, hypnosis is an increasingly popular methods.

Andrew Hill, founder of AH Associates, a hypnotherapy clinic in Swindon, says that hypnosis is the most effective way of giving up smoking.

"Hypnosis is a really effective way of helping smokers who have tried everything from patches to cold turkey," he says.

"It's not a magic bullet, but we'll certainly give clients a leg-up to help them over the wall.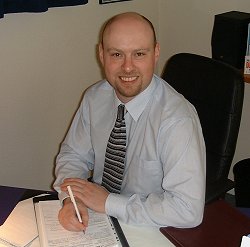 The hypnotherapy approach:


the most effective way to stop

"Those who really want to quit, who no longer enjoy smoking and have become a slave to the cigarette can benefit immensely from our unique combination of advanced hypnosis and NLP techniques.

"The fact is that smokers may want to consciously give up, but their subconscious mind is simply continuing to run the old, now unwanted, instructions that were given to it whenever they smoked.

"We have helped many of these clients to give up with a single-hour session.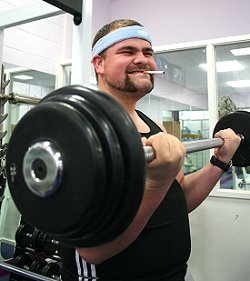 Smoke fags or stay fit?:


according to other surveys, Swindon
can do both!
He adds, "Pharmaceutical methods only actually double your chances of quitting to 12% and I'm really not a great believer in their effectiveness.

"There have been a lot of studies, particularly in the States, on the effectiveness of hypnotherapy. Harvard even has a school of medical hypnosis."

AH Associates
- website

Hypnotherapy in Swindon
- more links