Swindon Carers Given Due Credit
Social Care staff were awarded for their commitment and dedication at the Swindon Borough Council's Quality Services awards.

Over 200 nominations were received from the public and Council employees for the awards, which recognised the unheralded work carried out by Adult and Children & Families Social Care staff.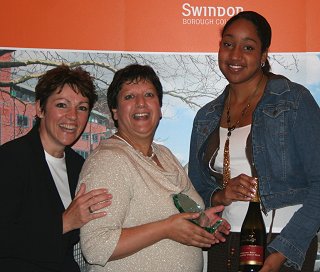 Deserved recognition:


award winners at the Swindon Quality service awards
It was the 2nd ever 'Quality Service' award ceremony and the overwhelming response showed an honest and open acknowledgement of Social Care staff and their dedication to those they care for.

A panel of judges were asked to select winners from the nominees, who cover the whole range of social care, including Occupational Therapists, Carers, Social Workers, Support Staff and teams.
There were eleven awards, Gold, Silver, Bronze and Team; given to exceptional people who look after the very young to older people in need of social care. Awards were also given for long service to the Council.

Swindon Borough Council Cabinet Member for Health, Housing and Social Care, David Renard said. "The fantastic response we received from people who nominated others for this award shows the enormous amount of respect there is out there for our Social Care staff".
Swindon Borough Council Cabinet Member for Children Services, Garry Perkins, said: "The awards are a brilliant way of showing we recognise the dedication and commitment of our carers. The extensive number of nominations is indicative of how we are improving as a council."

Among those presenting the awards were Jan Stubbings (Adult Social Care Group Director), Graham Pearson (director Adult Social Care) and Mayor of Swindon Mike Bawden.

Swindon Carers - more information