Date added: 09 July 2006
The Taste of Success - Italian style!
How every Italian in Swindon partied after winning in 2006

The pizza in Swindon should taste sweeter this week, as the town's numerous Italian restaurants revel in World Cup glory.

Among them is Mario's on Old Town, where staff are still on cloud number nine after their team served up a football feast.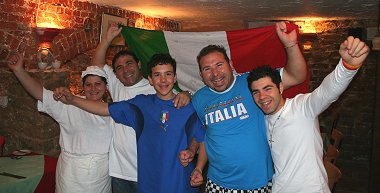 We are the Champions!:


the staff at Mario's in Old Town celebrate Italy's World Cup win

"I'm very proud to be Italian," said Enzo Coniglio, 43, who closed his restaurant on Wood Street for the evening to watch the match in town.

"There were about 300 Italians watching it in the Apartment in town," he said. "Families, students, everyone. It was a fantastic atmosphere. Absolutely beautiful.

"I couldn't watch the penalties," he said. "I was sure we would lose again and I left the room and covered my ears and eyes, but somehow we won.

"We are going to bring out a red, white and green Materazzi Pizza to commemorate the achievement. Maybe we will put Zidane's head on it too!"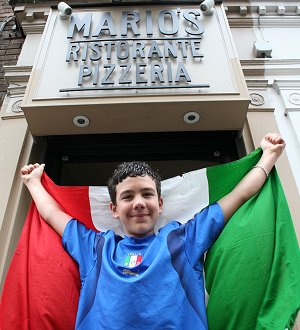 We won!:


John Coniglio, 15, savours Italy's triumph

Enzo lives in Swindon with his brother Nino, who co-owns the restaurant, and they were quick to call their family at home amidst the celebrations.

"I spoke to my family in Sicily and it is crazy over there - they are roaming the streets celebrating!" said Enzo.

But there was certainly a slice of Italy here in Swindon from the moment Fabio Grosso slotted home the spot-kick that saw Italy reclaim the World Cup for a record fourth time.

With around 10,000 Italians living in Swindon, the celebrations saw many of the town's Italian community united, turning the Regent Circus area into something of a football carnival.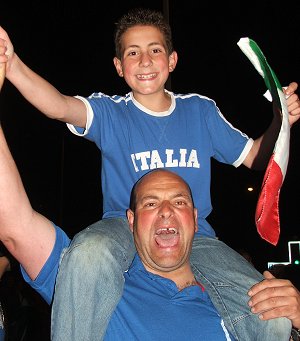 On top of the world:


celebrations in Regent Circus 'Maximus' last night

Anna Pungitore, co-owner of Franco & Anna's shop in Gorse Hill, was among those to join the festivities.

"It was just a totally brilliant atmosphere," she said. "Everyone gathered outside Swindon College in Regent Circus after the match as soon as the word got round.

"It was just great to see all the Italian community together - lots of us already know each other and keep in contact but this was just brilliant. There were police there but there was no need for them at all.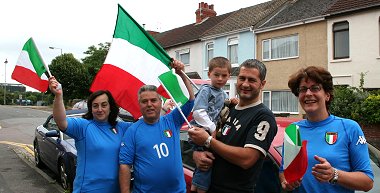 Flying the flag:


at Anna and Franco's Italian delicatessan in Gorse Hill

"It was a difficult match but we showed France who is boss after they beat us in Euro 2000."

And victory was even sweeter for Anna, who put a bet on Zidane scoring the first goal and Italy going on to win. Although she doesn't yet know how much she has won, it will certainly be worth celebrating with the Italia 90 World Cup wine they keep in the shop.

Elsewhere in Swindon, it was business as usual, with La Dolce Vita on Clarence Street staying open for the evening.

Those working in the kitchen had to catch the action on a portable television while they chopped, cooked and cleaned. Among them was Andrea Fadda.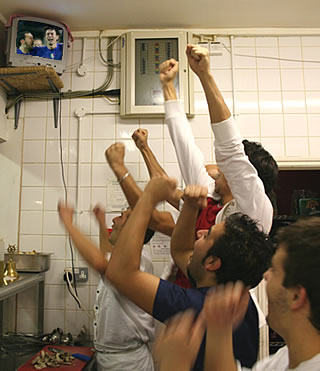 Get in there!:
the reaction in the kitchen at La Dolce Vita
as Fabio Grosso scores the winning penalty

"I'm a big football fan so it was very difficult working and watching!" said Andrea, whose favourite player is Del Piero.

"It was a brilliant match and all Italians are very happy at the moment!"

At Fratello's it was a similiar story of racous celebration and jubilance.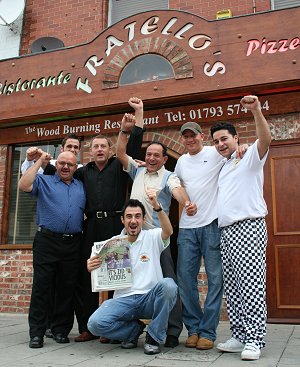 The World Cup belongs to us:


staff and customers at Fratello's
show their joy at Italy's win

"It was fantastic to see a huge part of Swindon's Italian Community unite and cheer on the Italian national team," owner Enzo Mazzotta told us, "and then come out to celebrate in true Italian style."

"The party here went on until the early hours. It was certainly a night we won't be forgetting in a hurry!"

Just think what it would have been like had England won.
The celebrations in Swindon town centre after Italy's victory
Huge thanks to Frank Paone for helping with the pictures for this feature. Grazie!
World Cup Swindon
Big screens, booze and Brazilian takeaways - kick-off your World Cup right here...