Date added: 22 June 2006
David Howell swings in to help local charity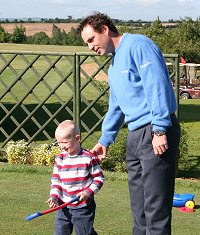 Lending a hand:
David Howell at the
in aid of leukaemia research
He's claimed his place in the world's top ten, he has humbled golf's finest at Wentworth and Shanghai and has just come oh so close at the US Masters.
But it's good to know that Swindon's finest sportsman has still got time to return to his hometown and lend his support to a local charity.
David Howell stopped at Wrag Barn Golf Club in Highworth to open the Children's Cancer and Leukaemia Movement (CALM) 13th annual Golf Day, and even gave a putting lesson to two children battling with leukaemia.
For seven year-old Seren Kitchener, from Highworth, it was her first golf experience. And who better to have teach your first ever lesson?
"I really enjoyed it and David was really nice" said Seren, who has been through leukaemia treatment and continues to be supported by CALM.
And Seren certainly grasped her short putting game quickly, firing balls in the direction of the slightly nervous photographers with alarming accuracy!
Seren's mother Mary, a strong supporter of the charity, enjoyed the proud moment.
"It's absolutely wonderful to have David here," she said. He's such a great supporter of CALM and we really appreciate his involvement.
He's a very caring man and everyone in Swindon is extremely proud of what he's achieved."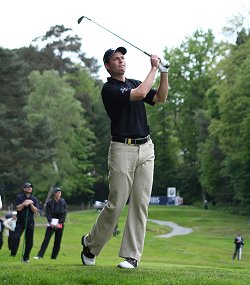 World star:
Howell in action, here at the PGA
Championships, which he won in 2006

Three year-old Andrew Crowley was diagnosed with leukaemia at the age of two and is undergoing regular treatment.

"Thank God CALM exists," said Andrew's mother Marianne, who has given up work to support her son.

"It is fantastic that someone of David's ilk is here to support the charity and what CALM does wouldn't be possible without this.

Thanks to financial support it is able to organise things like holidays and support is available 24/7.

"Andrew obviously doesn't realise who David is yet but it will be exciting to tell him about it in years to come."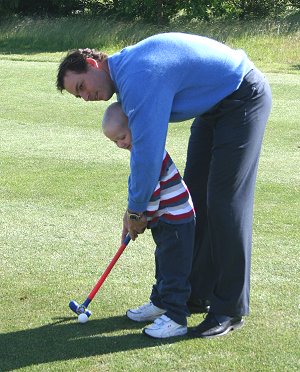 Never too young to start:
Howell teaching leukaemia

David Howell has been a strong supporter of CALM since leukaemia took the life of a close friend, and has been heavily involved in fundraisers like this since.

"My friend Johnny's wife died from leukaemia last year and as a result of that I had got to know her and her family closely," he said.

"As a result I became involved with CALM. It's a very small thing for me to be doing something like this compared with how much work goes on behind the scenes. But I'll do my little bit to help raise some funds for what is a fantastic charity.

"It's always a pleasure to come home to Swindon," he added. "It's nice to see so many friendly faces.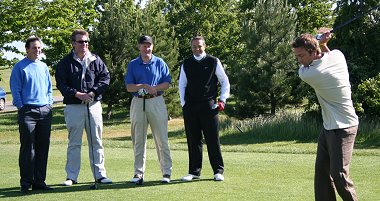 Expert eye:
Howell watches the players from the Monahans' team tee-off

After opening the nine-hole 'Texas Scramble' tournament Howell spent time catching up with some old friends, all dishing out their congratulations for what has been an incredible year for the Broome Manor pro.

Later in the day the Club held a CALM auction which included many items donated by Howell, including an hour lesson with the man himself, and Masters flags signed by himself, Sergio Garcia, Luke Donald and Retief Goosen.

Elsewhere in Swindon, New College are auctioning a polo shirt and photograph signed by Howell to help raise money for CALM, which is their chosen charity this year.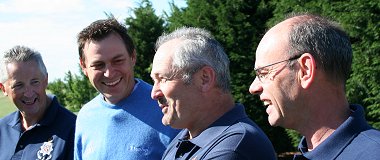 On the right side of the law:


Swindon's enjoys a joke with the Swindon Police team
on the 1st tee
Last year the Golf Day raised over £5,000 which has helped CALM respond to the needs of a great number of local families.
This has included providing much-needed convalescent breaks in their two seaside caravans, as well as organising coach trips and social gatherings and financing a family support worker and social worker.
CALM has been run totally voluntarily for the last 22 years by parents who can understand the families' needs.
David Howell Interview
SWTV speaks to the Swindon golf star ahead of this week's Ryder Cup - WATCH VIDEO

21 September 2012

What a shot!!!
Gong-ho David Howell enjoys the luck of the Irish in golf challenge - WATCH VIDEO...

16 August 2010