New strategy launched to help Swindon's unsung heroes
Two teenage girls have spoken emotionally of their experiences as carers at the launch of a bold action plan aimed at making carers' lives easier.

The strategy, which was launched as part of Carers Week this week, is set to help relieve the strain of the many carers in Swindon and support them in every way possible.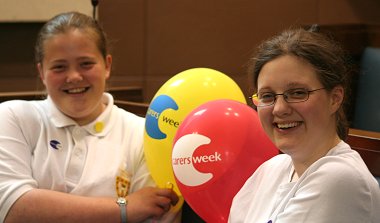 Young Carers:


Kirsty Bridgeman and Kirsty Phillips at the launch of
the new Swindon Carers initiative this week

Kirsty Bridgeman, 15, and Kirsty Phillips, 19, have both been carers for family members as long as they remember, and feel that the new strategy will change the lives of Swindon carers for the better.

"I think the plans are really great and I believe a lot of it will happen," said Kirsty Phillips.

"My mum's been ill all my life and has been in and out of hospital with depression and mental problems, so I have had to dedicate a lot of my life looking after her.

"Being a young carer can be really stressful and can affect everything from social life to school work. Friends won't understand why you can't go out all the time, while it is easy to get behind on homework, and there is always a risk of falling asleep in class when you have been up all night."

But Kirsty is optimistic about the strategy, which was launched through a partnership between the Swindon Carers Centre, Primary Care Trust and Borough Council.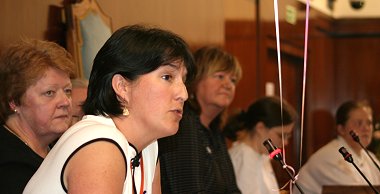 Working in partnership to help Carers:


Strategy co-ordinator Angela King speaks at the Care Plan launch,
with Chief Executive of Swindon PCT Jan Stubbings (l) and
Swindon Carer's Development Officer Deb Bignoll (centre)

It contains separate strategies for adult carers and young carers, both of which put great emphasis on carers' health, after it was revealed that 79% of carers say their health is affected by caring.

The plans will ensure that carers not only receive regular health checks, but also have enough breaks to keep them going.

They will also receive greater recognition, as well as increased support in employment opportunities, which have in the past been compromised by their caring duties.


Swindon Primary Care Trust's Jan Stubbings is Group Director of the strategy and spoke of her determination meet the targets.

"This must not be another document gathering dust on the shelf," she said. "Carers represent the unsung heroes in our society. They are of exceptional value and deserve our absolute support. Caring is a 24/7 responsibility."

Jan has dedicated a great deal of her life as a carer for her own family members and spoke of her difficulties holding down a full time job whilst caring for her loved ones.

Councillor David Renard, who took over as Swindon's cabinet member for health, housing and social care last month, was also present and was moved by what the young carers had to say.

"It was quite inspiring to hear what they do at such a young age," he said.

"I had a taste of it myself when my daughter was diagnosed with leukaemia and I fully understand the strains on the carers.

"But for younger carers it can be so difficult, and there is a definite need to work with schools to make sure there is trust and understanding."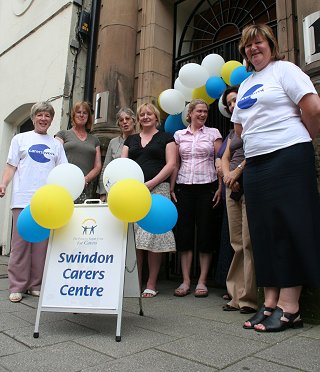 All-year-round support:


the Swindon Carers Centre team launch
Carers Week 2006
It wasn't just young carers who spoke of their experiences. Bill Breenshields spoke on behalf of older carers, comparing the situation now with when he first began caring.

"I've been doing it for forty years now and back when I started there was just one young social worker who supported us. How things have changed.

"Carers have many rights and expectations are growing daily. We have to look forward together and we can really make this action plan work."