Walcott, Theo
Two mascots from Hreod Parkway won't be Swindon's only connections to the England squad this World Cup.
Theo Walcott, the Arsenal teenager who was this week unleashed as Sven's secret weapon, owes a lot to Swindon, aside from just his surname.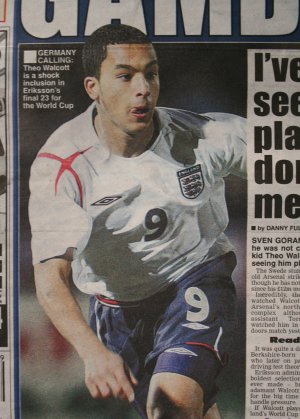 Theo's inclusion in the World Cup squad has
dominated the media since Sven made his announcement

The £12 million seventeen year-old wonderkid was on Town's books from the age of ten before being snapped up by Southampton.

Appropriately for the boy who would later become a Gunner, it was a man named Cannon who launched his playing career here at the County Ground.

Phil Cannon, working as Jimmy Quinn's Youth Development Officer, spotted Walcott playing for his local school side AFC Newbury six years ago.

Impressed by his blinding speed (he can now run 100m in 11.5 seconds) Cannon signed the ten year-old to Swindon's Centre of Excellence.

Walcott continued to show great potential at the Town; so much so that the impressionable young boy was tempted away by Southampton (then a Premiership side) when he was barely twelve.
And for what price? £2,000 no less.

That's right, we were sitting on a £12 million lottery ticket and we let it slip for the price of a second-hand Ford Fiesta.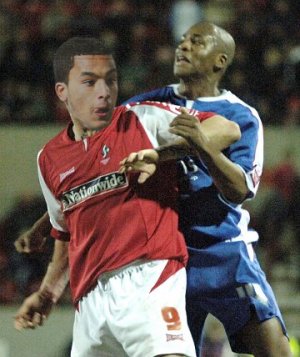 It's only a dream, but this how Theo could have
looked in a Town shirt this season.
(staged picture)

Cannon, now Head of Recruitment at Everton, had boasted at the time: "A system is in place now where the bigger clubs have to pay if they want our best youngsters."

"We are talking about serious money… That, rather than team transfers, is where the future lies," he added.

We think he had a little more than £2,000 in mind.

As Town stare substantial debts and a place in the basement of the football league in the face, never more than now could we have done with that "serious money".

"We had our fingers burnt there and we don't want to let that happen again," said Iffy Onoura, who, finance aside, could certainly have done with the speedster to plough through a few League One defences this season.

It is said that Town are currently appealing to the FA over the matter, clearly flummoxed at where the other £11,998,000 went!

In the meantime, metatarsal injuries permitting, we can sit back and watch Walcott show the world what he's made of, and rue the one that got away.