Date added: 12 May 2006
Graffiti in Swindon
Is it Art or Vandalism? SwindonWeb asks the question

It may have seemed like a routine visit to spread the Labour love, but the moment Tony Blair posed in Toothill Centre armed with a graffiti removal hose and directed his trademark grin towards the national media, Swindon immediately became an example.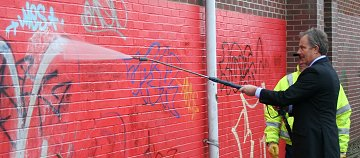 Trigger happy:


Prime Minister Tony Blair removing graffiti in Toothill

Adorning every national newspaper the following day, Swindon was the naughty child made to stand at the front of the class while Head Teacher Blair instilled his 'Respect' agenda upon a receptive mass.

But while the streets of SN may be painted with mindless graffiti in the eyes of some, is the town really under attack from 'art terrorism'? What is being done to clean up Swindon's act? And is graffiti such a crime at all?

New laws in force this month not only allow for £75 to be charged to anyone seen applying graffiti unlawfully, but also increase the powers of the Borough Council to remove graffiti from buildings.

Swindon Borough Council can now serve notices for Utilities to remove graffiti when it is visible from the highway.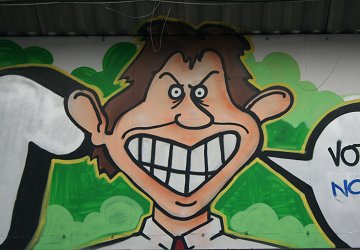 Tony Blair graffiti in Swindon

Geoff Davies, SBC's Street Cleaning Manager, says "The notice gives 28 days grace at which point the council can then carry out the work and reclaim its costs from the relevant undertaking."

He feels the legislation will definitely have an effect on those areas most prone to graffiti attacks on top of continued efforts to clean up nameplates, subways, road signs and pavements.

However, graffiti artist Mark Garrison, 24, argues the legislation is typical of the government's attitude towards graffiti.

"Whenever the government has something it wants to distract from, like the war in Iraq," says Mark, "it brings up anti-social behaviour and inevitably talks about graffiti and cleaning the streets."

"The media is also rife with contradictions," he adds. "Sometimes they like it; sometimes they want to quash it, tirelessly repeating 'Writing on the wall' type headlines."



Conflicting representations of graffiti extend to popular culture, which increasingly associates street art with hip hop trends, moving it more and more into the mainstream over recent years.

From cartoon band Gorillaz to popular console game Getting Up, which allows players to take the role of a heroic graffiti artist out to defeat a power-hungry Mayor, it seems everyone is cashing in on the iconic image of street art.

There is even a popular website, Graffiti Creator where you can perfect your own tag, and a worldwide graffiti competition, Write4Gold, pitching graff artists together in a global 'spray off'.

So could we truly scrub out something that popular culture holds in such high esteem and that so many youngsters remain so passionate about?

Legendary graffiti artist Banksy gave his typically candid view on the matter: "Not only is eradicating graffiti impossible but it would be a cultural disaster," he suggested.

"One of the main reasons people flock to London from all over the world is the flash bang wallop of its vibrant "yoof culture".

So while graffiti may not yet be adorning the covers of London guide books as Banksy would have us believe, is it really a proud symbol of British culture that should be celebrated?



One step inside Penhill Garage, a popular legal spot in Swindon, and there is a certain vibrancy to be felt. Much like walking into an underground art gallery, there is a real sense of uninhibited self expression, rarely found elsewhere.

Spots like this undoubtedly show graffiti as art rather than the mindless vandalism of directionless youths. Whether through personal tags, political rhetoric or themed walls, there is undeniable passion and, yes, talent at play.

Eighteen year-old Jay, who was introduced to graffiti three years ago, says that there is real pride in places like Penhill, and artists will always photograph their work.

"It makes you feel alive," he says. "It's art but it's also a social thing - we all seem to know each other. Some of the kids would be doing a lot worse if they didn't have graffiti."



This is something the Council is abundantly aware of and they have for some time held graffiti classes as part of the Youth Service.

There are also legal surfaces designated for the Youth Offending Programme, and while the Council does not promote legal sites, Penhill Garage has been approved for graffiti on a trial basis.

But it would be naïve to think that graffiti could ever be restricted to legal spots.

"For a lot of graffiti artists the rebellion is where the buzz is," says Jay. "Legal spots are popular but it keeps it interesting when it's not legal."



While it would be hyperbole to suggest that the Council is spending £80,000 a year merely to provide graffiti artists with blank canvases, clamping down on graffiti and setting bold examples certainly has its adverse affects.

In New York, for example, tougher policing has led to an increase in guerrilla tactics, with the streets as a consequence covered in rushed chrome and black bubble letters rather than the colourful artworks that could previously be seen.

Which takes us back to Mr. Blair's wall in Toothill.

It took approximately 48 hours for local youths to deliver their emphatic response to Blair's 'respect' rhetoric. And their message, emblazoned in ugly 3ft x 20ft chrome letters:

"F*** off. Keep off our land Blair."

Graffiti in Swindon - 12/05/2006
Nice paint job!
Praise for Swindon graffiti gang as railway museum transformation gets under way....

02 October 2008