Date added: 15 April 2006
Billie reveals all in GQ interview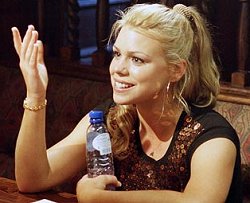 Swindon-born Billie Piper
© BBC
Swindon star Billie Piper has been talking candidly about her life - and love for women's bottoms!

The award-winning actress - currently hitting our TV screens as Rose Tyler in Doctor Who - has admitted that she like big butts in an interview for GQ magazine.

"I find them really sexy," the former Bradon Forest schoolgirl told Piers Morgan.

"I love Beyonce's arse. I'm so over J-Lo. Britney has a great butt, too."

Not that the former singer is unhappy with her own behind. "It's my best asset," she proudly described.

"I often admire it in shop windows."
Asked whether her fascination with the female booty meant she fancied other women, Billie added: "Yeah, big time. I check women out more than men."
Other revealing comments in the interview printed in the April edition of the top-selling men's mag include how she fancies comedian Steve Coogan and why she didn't tell her parents (who still live in Swindon) that she was about to marry Chris Evans.

"They would have just told me not to do it," the 23-year-old said, "I didn't want to hear any negativity surrounding what I thought was the greatest thing ever to happen to me."

The new series of Doctor Who is currently on BBC1 every Saturday night.
Billie Piper
Swindon's pop star turned award-winning actress...