Date added: 25 March 2006
Swindon Boxer Wins Commonwealth Gold
Jamie Cox picks up gold without even throwing a punch!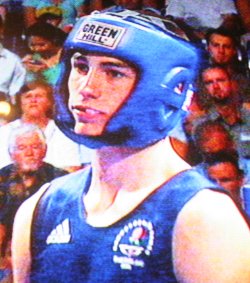 Swindon boxer Jamie Cox has struck gold tonight in the Commonwealth Games - without even throwing a punch.

The 19-year-old fighter from the Walcot Amateur Boxing Club was declared the winner of the final of the Light Welterweight [64kg] Division after his opponent, Moses Kopo, from Lesotho, unexpectedly pulled out of the gold medal bout.

It is believed Kopo was suffering from a suspected perforated ear drum and was withdrawn on medical advice by doctors.

Commentators, however, hinted that it may have been the ferocious nature in which Cox had dispatched his previous opponents on his way to the final that psyched the 27-year-old African out of taking part.

"He won't have fancied taking him on," said BBC's Richie Woodhall, the former world champion. "He'll have known that Cox was favourite and he could really hurt him."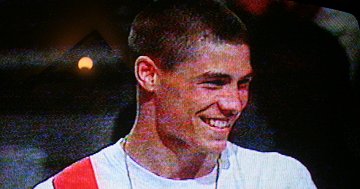 On the podium:

a smiling Jamie Cox
receiving his Commonwealth Gold Medal
But what is without question, however, is how impressive Cox has been in taking the Commonwealth crown.

The youngest boxer in the England team has attracted the attention of numerous professional promoters with performances that have been described as 'world class'.

They include his semi-final battering of the highly regarded Welsh fighter Jamie Cress, who retired after being on the receiving end of of a polished Cox performance which included a barrage of aggressive counter punching and intelligent footwork.

"He's the real deal," said boxing mogul Frank Warren, "Cox has been the star of these games and the lad has a bright future if he keeps fighting like that."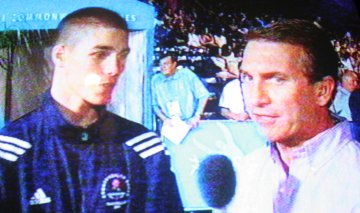 Congratulations:

Jamie Cox being interviewed
Speaking after he was confirmed as the Commonwealth champion, a delighted Cox thanked his family and everyone back at the Walcot club where he has been training for the event.

"This is for everyone back in Swindon," he said, clutching his medal.

"I'm sure all the lads back at the club would have liked to have seen me finish the job, but it still feels just as good to win. It's been a dream come true."

Cox's parents, who travelled to Australia to witness their son's triumph, were said to be 'overwelmed with pride' at his achievement.

Jamie's victory is also the perfect start in what is a massive weekend for the Walcot ABA Club.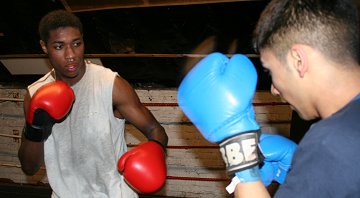 In training:

Marlon Reid and Danny Khakj
sparring at the Walcot ABA Club
The National Finals of the ABA Golden Gloves takes place on Sunday and the club have a couple of well-fancied entries in fourteen-year-old juniors Tom Flynn and Jorgen Cetaj.

"We've been training hard all week," said chief coach Harry Scott.
"Jamie has been a huge inspiration to all the lads, but it's business as usual tonight as we prepare for what is a big event for us."

The club, which has over 40 boys learning the noble art, has been going for nearly 45 years - the last 15 years at its present home, a makeshift gym at the rear of the County Ground Hotel.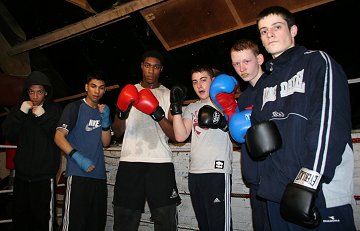 (from right) Jorgen Cetaj (14 years, 66kg);
Tom Flynn (14, 63); Richard Spruce (15, 63);
Marlon Reid (23, 76); Danny Khakj (17, 60);

"We've had some very good fighters here over the years," Harry added, "but we've got a very good crop at the moment. Some of the boys here are exceptional, with a great attitude."

"Boxing in Swindon has never been better."

Jamie Cox
- more information

Commonwealth games
- website

Sports section
- SwindonWeb guide