Date added: 08 March 2006
Computer Museum Counts on Sir Clive
The man who brought home computers to the masses made an appearance in Swindon this week.

Sir Clive Sinclair, whose company manufactured the hugely popular ZX81 and Spectrum computers in the early 80s (before being bought out by Apprentice star Alan Sugar), was guest of honour at a new exhibition at the Museum of Computing.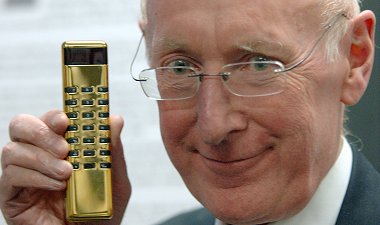 Sir Clive Sinclair, with a gold-plated
Sinclair Soveriegn
pocket calculator
currently on display

© Calyx Multimedia
Entititled 'Calculator - An exhibition featuring everything from the Abacus to the Microchip', it highlights the tools that man has used over the centuries to manipulate numbers.

And as the inventor of the world's first affordable pocket calculator, Sir Clive's legacy is very much in evidence in the exhibition.
Of the 100 exhibits, eighteen calculators represent the range of machines Sinclair Radionics produced between 1972 and 1980.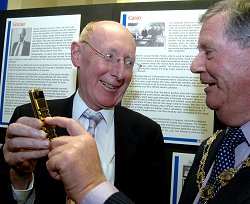 Swindon Mayor Peter Stoddart


© Calyx Multimedia
The star of the show being an example of the now ultra-rare Sinclair Sovereign, which won a Design Council Award in 1977. The electronics pioneer happily posing with a gold-plated example currently on show.

"It's a huge boost that Sir Clive has found time to launch our new exhibition," said museum curator, Simon Webb.

"Nowadays we take calculators for granted. But in the 1970s they really were cutting edge technology. Their invention and popularity were the launch pad for the computers of today."

The exhibition, which is housed within the Museum of Computing at the University of Bath in Swindon, continues until the summer.