Date added: 03 February 2010
Buon giorno!
New Italian restaurant offers authentic food in Swindon
There are not many places you can walk into in Swindon and say you got an authentic welcome… but this is exactly what you will get from newly opened Italian restaurant Da Vinci in Fleet Street.
Arriving just before midday I was greeted with a 'buon giorno' from across the room, followed by a friendly welcome from the rest of the staff.
The word that they serve good food must have already spread as within five minutes of the doors opening they had people pouring in for lunch, and seeing their express lunch menu you could understand why.
For just £4.95 you could have a good portion of traditional Italian foods such as Spaghetti Bolognese to any homemade pizza.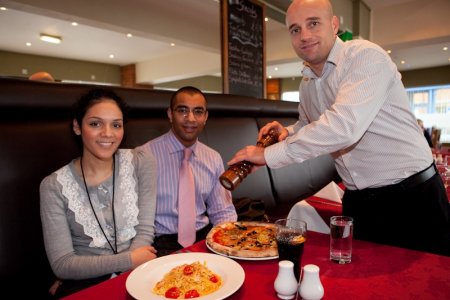 lunchtime at Da Vinci Italian restaurant
The Diavola pizza looked good I have to say, described as a pizza with tomato, mozzarella, spiced salami and chillies.
The portions looked very generous and the service seemed quick and efficient.
When asking owner Antonio D'Azzo why he chose to set up a restaurant in this part of town he answered "Swindon is an up-and-coming town and I wanted to be apart of it"
"Here we are central for shoppers and businesses to come for a bite to eat for lunch or for a traditional meal in the evening."
I asked him why he called the restaurant by the name 'Da Vinci', in which he replied "It's strong like us, we want to be the best for the best!" And this pretty much summed it up.
The food looked good, the service was efficient and the decor transforms you to Italy. What more could you ask from an Italian restaurant.
Eating Out Guide
Italian restaurant in Swindon? Chinese, perhaps? A quick bite at lunch-time? Or Sunday lunch? FULL GUIDE