Date added: 20 February 2010
Rudman sixth in Olympics
First run left too much to do as teammate clinches gold
Swindon-born Shelley Rudman was left to rue her first run after finishing 6th in the skeleton competition.
The silver medallist from 2006 could only improve one place from her overnight 7th position following a fightback from 11th after the first run.
"I really started to get a handle of the track," Rudman commented, "but I left myself too much to do to grab a medal."
Amy Williams, Rudman's teammate and rival, however, was celebrating after winning gold in the same event - Britain's first individual gold for 30 years.
Shelley Leads Olympic Team
Swindon-born star to carry the flag at Winter Olympics opening ceremony
12 February 2010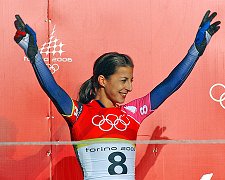 If you are up at 1.30am on Saturday morning watching TV, then look out for Shelley Rudman leading the British team in the Winter Olympics.
The Swindon-born star, who won silver in the skeleton bobsleigh in Turin in 2006, will carry the flag at the opening ceremony as one of the two co-captains - and then hopefully go for gold next weekend.
Rudman, a former New College student, is one of the favourites for the skeleton event after finishing the 2009-10 season ranked second in the world.
Rooting For Rudman!
UPDATE: No medal this time for Swindon-born Shelley at the Winter Olympics...

14 February 2014